Yes! Today is the day! The 2014 Holiday Catalog goes live and you can now order all your favorites for the holiday season. If you haven't already seen the catalog just click on the image below. You're going to LOVE it!
Want a copy for yourself? If you are a Club Member or frequent customer of mine you should have already have received yours in the mail or at my Holiday Catalog Premiere. If not, contact me today and I'll be happy to mail you one.
Haven't ordered from me in a while or are new? Contact me and I'll be happy to send you one.
SHORT & SWEET PROMOTION ENDS TODAY
If you have been wanting to join my TEAM now is a great time – But hurry the Short & Sweet promotion ends at 11:50 p.m. (MT) today.
Click HERE for more details.
EARN YOUR FREE GOOD GREETINGS STAMP SET NOW!
That's right I said FREE- so let's schedule your party. And let the fun begin!!
Now until Oct. 31,  Hostesses will be able to earn an exclusive Good Greetings Stamp Set when your party reaches of  $300-that's in addition to the other exiting benefits! That's right, a FREE stamp set in addition to all the other exciting and generous benefits you get when you host a party from Aug. 28 to Oct. 31! This versatile stamp set covers holidays from Halloween to Valentines and more. Contact me today to schedule your private party! (Book parties qualify too!)
Want to see the Good Greetings set up close? It's fantastic, you'll love the font – so just click on the image below to see it in detail!
Dates: August 28th- October 31, 2014
The Fine Print:
All order types qualify for this promotion
Hostesses may use their additional hostess dollars on any current catalog merchandise.
Orders larger than the qualifying amount are not eligible for additional sets
Qualifying order = $300 in sales (pre-tax and shipping); one set per order
Qualifying host has the choice of wood or clear mount stamp set
Order dates: August 28 – October 31
Deadlines:

Friday, October 31, 2014; 11:50 PM (MST)
 BIG SHOT BUNDLES PROMOTION ENDS SUNDAY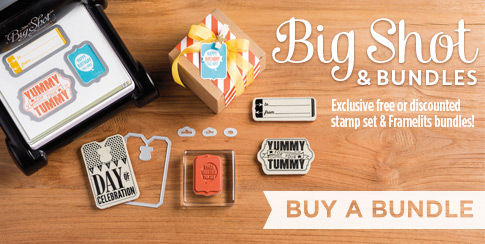 Don't miss out on your favorite bundle – promotion ends Sunday, August 31st, 2014 at 11:50 p.m. (MT)
Click HERE to see all the bundles available
There is a lot of exciting things going on right now so if you have any questions – please feel free to call or email me.
Click here to order your Stampin' Up! Products online 24/7! (US only)
Hostess code HKNSYMNZ
Weekly Deals (Special ends Monday, September 2nd, 2014 at 11:50 p.m. (MT)