The Retirement List is now LIVE
I'm going to keep this short and sweet because I know you want to see the lists! Many products are only available while supplies last, so be sure to get your orders in early! (And remember that some items having amazing discounts!)
Sooo….Here are the Retirement Lists that have just been announced by Stampin' Up!
You can always go to my Online Store and look at the Retiring Items there to see everything and see it easily.
A couple of important things to note as you go thru the lists
Bundles may being listed as Retired BUT that doesn't mean the Stamp set and Dies are. However, the 10% Discount is going away. Please look for the stamp set and die to be on the list listed separately if it is being Retired,
2020 Annual Catalog
Retired Stamps & Accessories List PDF
Retired Stamps & Accessories Excel File
Please remember that its While Supplies Last (this includes: stamps, Ink, Reinkers, Card Stock, Designer Series Papers, Ribbon, Dies, etc.).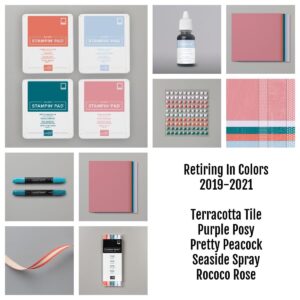 Make sure you have got your favorite 2019-2021 In Colors that are being affected by the Retirement List in the 2020 Annual Catalog – Your favorite colors are sure to go fast!
If you have any questions please feel free to contact me. And of course you can stop by my Online Store to SEE all the products on the list – just look for the Retirement Category in the drop down menu The fine print:
Only select items in the 2020–2021 Annual Catalog will be discounted.
No minimum purchase is required.
Retiring items are available while supplies last.
Items and discounts may vary by market (depending on inventory levels).
Exclusions apply: Carryover items and some retiring items will not be discounted.
Items carrying over from a mini catalog into another mini catalog will not be available until that catalog is released.
Items carrying over from the annual catalog to another catalog will be available continuously.
Shop at my Online Store and use Host Code 9TYDDCU7
Click Here to learn more about using the Hostess Code If you order Online make sure your profile information is up to date and you've allowed me to contact you (If you chose no contact in the past you'll need to call 1-800-Stamp Up to have them change your profile for you.)
The 2021 Annual Catalog is right around the corner and I won't be able to mail you one if you have chosen no contact.

Are you eligible for a FREE Stampin' Up! 2021 Annual Catalog? I'm currently working on my mailing list for shipping the 2021 Annual Catalogs (and will be finalizing it by March 28th)

You'll be the first to get one (around late April) if: Are you a frequent customer of mine?

If you ordered a minimum of $50 from me in the last three months (or 90 days) you are eligible to receive FREE Stampin' Up! Catalogs.

Have you hosted a Private Party? If you have gathered with friends in the last 3 months (or 30 days) you are eligible to receive FREE Stampin' Up! Catalogs.

Haven't ordered from me for awhile or are new? Place an $50 order with me during March and you are eligible to receive FREE Stampin' Up! Catalogs. (If you are placing an Online Order make sure your information is up to date, the mailing address is correct, and you've allowed me to contact you. if you didn't choose the contact option I can't mail you a catalog. You'll need to call Stampin' Up! directly at 1-800-782-6787 if something needs to be corrected in your Online Store profile).