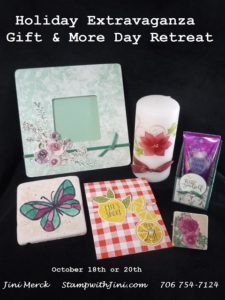 Create 6 wonderful projects & packaging
Perfect for your Holiday Gift Giving needs
Choose from two dates
Thursday, October 18th  OR  Saturday, October 20th
10 a.m. until 4:30 p.m.
Class Fee: $75
(Class includes Lunch, Frosted Floral Specialty Designer Series Paper, Tranquil Tide Velvet Ribbon, and your choice of 2 Stampin' Blends Combo Packs)
RSVP and Prepay  by Wednesday, October 3rd to hold your spot
to RSVP and hold your spot
I'm making it easy and doing the shopping for you – Ask me about my Additional Kit option  so you can create more of your projects at home!
It's more fun with friends so why not bring a new friend and get a gift!
RSVP is a must for all events! So I can have your stamps here and supplies cut and ready for class.
Doors open 5 minutes before class
Adhesive not included
Need Adhesive? No problem, pick yours up at the class.