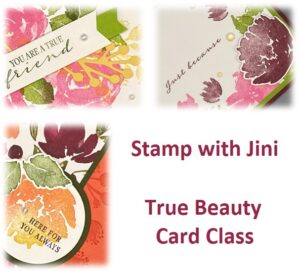 Make 6 cards with envelopes (you'll make 2 each of 3 designs)
Date: Thursday, September 29th
Time: 10 am – 12 pm
What does my Class Kit include?
Pre-cut supplies to make 6 cards (2 each of 3 designs)
Class PDF and Videos showing you how to create these projects
Envelopes so you can mail your projects when you are ready
FREE Class Option: Use Host Code VB2WYVK3 place any qualifying product purchase of $25 or more and get the class for FREE!
Class Fee LIVE/ONLINE Only $20 (Includes your class PDF & pre-cut supply kit; simply pay postage)
Online Class PDF & Videos $10 (no kit or product included)
RSVP and prepay to hold your spot by Monday, September 19th
Choose from my LIVE event or Online Class option
It's simple:
Sign up for class
Let me know if you want to attend the LIVE event or receive an Online Kit
Place your order using my Class Host Code VB2WYVK3 by the RSVP date of 9/19 to receive a free class
Pay the PayPal invoice I will send you a PayPal Invoice for the Kit's $8.95 priority postage. Or you can make arrangements for another payment method. Simply email me at StampwithJini@gmail.com or click HERE to use my PayPal button on my blog.
All Classes come with project PDF and Videos. Class Kit will be mail by Wednesday after LIVE event
Want the Class for FREE?
Simply use the Class Host Code VB2WYVK3, to place any minimum qualifying purchase of $25 by the RSVP date of Monday, September 19th prior to the class.

Online Class Supply List:
You'll need the following supplies to complete the projects as designed if you are not attending the LIVE event.
True Beauty Stamp Set #158976 $24 or True Beauty Bundle #158984 $59.25
Banners Pick a Punch #153608 $24
Sponge Daubers #133773 $5
Polished Pink Classic Ink $8
Granny Apple Green Classic Ink $8
Calypso Coral Classic Ink $8
So Saffron Classic Ink $8
Mossy Meadow Classic Ink $8
Merry Merlot Classic Ink $8
Adhesives are not included in class
Need Adhesives? Let me know and I can have some for you at class or add it to your order when using the Host Code if you are choosing the Online Option.
And of course if your order is larger than $150 please don't use the Host Code and email me that you want the class instead.
Click HERE to see my complete Calendar of Events
RSVP is a must for all events! So I can have enough cut for everyone.
Click HERE to see my complete Calendar of Events And to RSVP or Email me (StampwithJini@gmail.com) to RSVP and hold your spot