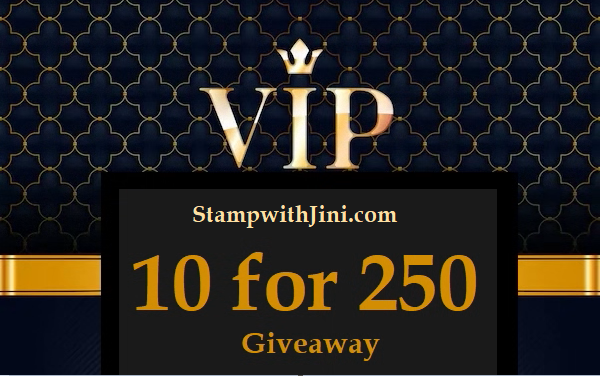 I'm currently running a very special challenge – a VIP 10 for 250 Challenge.
If your Wishlist has been growing since the Annual Catalog came out in June, now is the time to get some of those items, because now until September 16th I'm offering a bunch of extra freebies to the first 10 people who place $250 orders in product!
Once 10 people place their $250 orders using the Host code, 3 of them will get to choose a half price item for a current product found in the Holiday or Annual Catalog, 7 of them will get to choose $45 in FREE product, and once all the orders and Stampin' Rewards are claimed, all 10 names will be entered into a $250 Stampin' Up! shopping spree!!! Yes, that right! Another $250 to spend on your favorite Stampin' Up! products.
Here are the details:
When ordering Online you must be sure to use Host Code EFXCZ934.
Failure to use the Host Code means your order will not count in the 10 and you will receive just the $25 Stampin' Rewards instead of the $45 or ½ price items.
Can you imagine what you could get with a $250 shopping spree?
Reward products can be chosen from the current Annual and Holiday Catalogs.
When you shop online, I will receive an email with your order total and you'll get one of the 10 spots. As soon as the 10 for 250 challenge is full, I will pick a winner!
WHY AM I DOING THIS?
Every year Stampin' Up! offers an amazing all expenses paid Incentive Trip to it's Demonstrators and their partners. This year it is to Maui. We earn the trip by earning Flex Points. We earn these points by doing certain things all year including our product sales, recruiting new team members, leading our teams, and participating in promotions that Stampin' Up! runs.
My long-term goal has been to earn one of the Incentive trips for my husband and I. I've been working so hard to try and achieve it over the past 5 years. I'm getting closer by the day and wayyy ahead of where I was last year. I would truly love it and it would make it extra special to achieve this trip during my 10th Anniversary year with Stampin' Up! and every single order you place counts. That's why I want to reward you in return for helping me!
Don't forget, what happens when 10 people place $250 orders with me?
3 people will receive ½ price items
7 people will receive an extra $45 in product for FREE
1 will receive an additional $250 Shopping Spree!
Update: 9/17 – promotion has been extended to September 30th

Click here to order your Stampin' Up! Products online 24/7! (US only)
Shop at my Online Store and use Host Code EFXCZ934