This past Sunday I held my Holiday Catalog Premiere – I love these events since they give me a chance to pamper you, my customers. After all I couldn't do and share what I love without you! So I thought I'd share some of the projects for those of you who were not able to attend.
Here is a picture of the snack table. (I'm sorry to say I forgot to take pictures of everyone though out the event since we were having such a good time – But luckily I did take some before everyone got here. LOL)
Today's project is one that I made to decorate the snack table. I came across some fall flowers while out and about one day and couldn't resist them. Don't you love the Blackberry Bliss mums?
When I got them home I realized I wanted to make a vase that would pull out the Blackberry Bliss color in the arrangement. Purple has always been a favorite of mine and I just love our new In Color!  So here is what I came up with.
So what do you think? I just love the little Autumn Wooden Elements (135846) from the Holiday Catalog that I dangled down the front of the vase. I'm finding all kinds of uses for them! (They aren't available yet but you can begin ordering from the Holiday Catalog Thursday, August 28th)
Want to know how I added the color to this vase?  Well you're in luck I've made a video tutorial just for you – I've named this project Amazing Colored Glass! since I think it is amazing what we can do with our paper crafting supplies –  hope you enjoy it.
Here you go…. my Amazing Colored Glass Video Tutorial
Just a few tips I forgot to mention while taping.
First, you'll want to let your vase dry really well – it may take a few days depending on how thick your color layer is.
Second, your color layer can scratch. So if your doing a vase like this, you may want to loosly line the inside with tissue paper before adding your flowers, etc.
So what do you think? Why not leave me a comment and let me know?
I'll be sharing more about the Holiday Catalog Premiere tomorrow so stop back by then. And If you weren't able to pick up your copy of our NEW Holiday Catalog during my Catalog Premiere I'll be happy to send one to you. Just contact me and include your name, address, phone number and email address and I'll be happy to mail one to you.
P.S…. If you are a current customer of mine (which means you've ordered from me in the last 60 days) yours is on the way to you!
NEW WEEKLY DEALS FOR AUGUST 26TH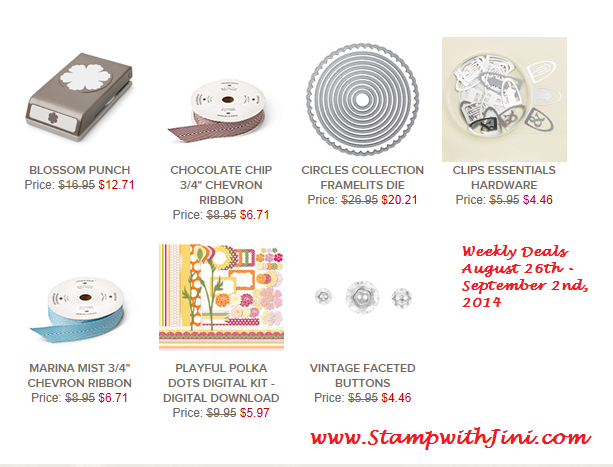 Supplies:
Accessories: Blackberry Bliss Classic Stampin' Ink Refill (133648), 1 ¼" Burlap Ribbon (132140), Gold Metallic Baker's Twine (132975),  Gold Sequin Trim (132983),  Autumn Wooden Elements (135846), and Glue Dots (103683)
Non Stampin' Up! Supplies: Acrylic Craft Paint, sponge brush, stir stick
Click here to order your Stampin' Up! Products online 24/7! (US only)
Hostess code WYRKXHUE
Weekly Deals (Special ends Monday, September 2nd, 2014 at 11:50 p.m. (MT)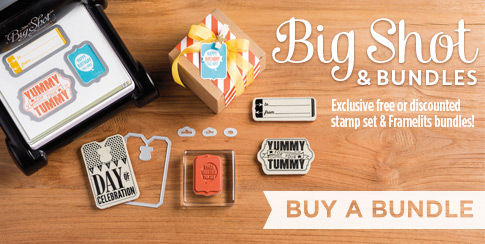 BIG SHOT BUNDLES PROMOTION ends August 31st, 2014