Summer has started and that always makes me thing of the beach. How about you? I got my first real taste of snorkeling and fell in love with it. Normally we had start off the beach, but the boat allowed a much different experience and there was much beauty in the Molokini Crater. So when I saw the Beauty of the Deep Bundle (161237) in the 2023 Annual Catalog I knew is would be a great one for ocean themed cards and would bring back those wonderful days of snorkeling.
Today's card was created with the Beauty of the Deep stamp set (161233).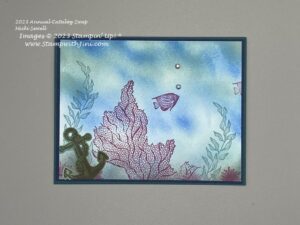 The background has been brushed with Lost Lagoon and Blueberry Bushel to create a watery effect and create movement. And the lovely little Iridescent Pastel Gems (160429) were used for the bubbles and picks up the colors around it. A die cut anchor done in Pebbled Path adds a bit more depth to the scene.
Can you feel the movement of the water? And the sun?
Why not stop by my Online store today and check out this lovely bundle of products along with others for us beach lovers?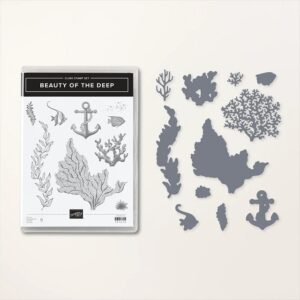 And if you have a long shopping list and would like a discount on your crafting supplies why not consider joining my team of crafters? With this month's special Kit promotion.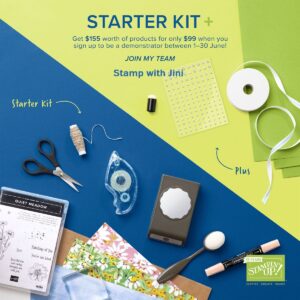 Not only will you get to choose even more fun products you can also be part of our preorder for the July Online Exclusives too, making it a great time to give this no obligation offer a try.
If you feel this is a good time to join Stampin' Up! and my team, the Blue Mountain Stampers, you too can be first too!
What are the Blue Mountain Stampers?
That's the name of our stamping community. I enjoy welcoming new members to our group. We're from all over. If you're considering joining Stampin' Up!, you may have questions about how I would support you as part of my team. I do offer a variety of ways to learn, grow and to have FUN as a Blue Mountain Stamper!
Exclusive Team Resource Page – videos, PDFs and more
Exclusive Face book Group – A great way to share and connect with other team members and share
Monthly Creative Challenges
Swapping Opportunities
Team Retreats
Meetings – both local and online/virtual
Monthly Crafting Day
Monthly Lunch & Learn
Recognition & Incentives
Training available for workshops, clubs, classes and more!
Additional support and business coaching available
We have a very active group that share and answer each other's questions on our Exclusive Facebook group.  If you're looking for fun, a place to grow and share with others…You'll fit right in!
Hobbyists are welcome!
Did you know? 90% of my Blue Mountain Stampers' are Happy Shoppers – purchasing for themselves, (along with their family and friends.) That's right…you can just get a discount on products you love!
We welcome the crafter who's looking to be a "happy shopper" (and save money), as well as those of you that want to build a business (and make money).
Everyone is welcome after all there's room for both and everyone in between.
And there is NO Obligation when you purchase your starter kit – Join the Blue Mountain Stampers and see what it's all about!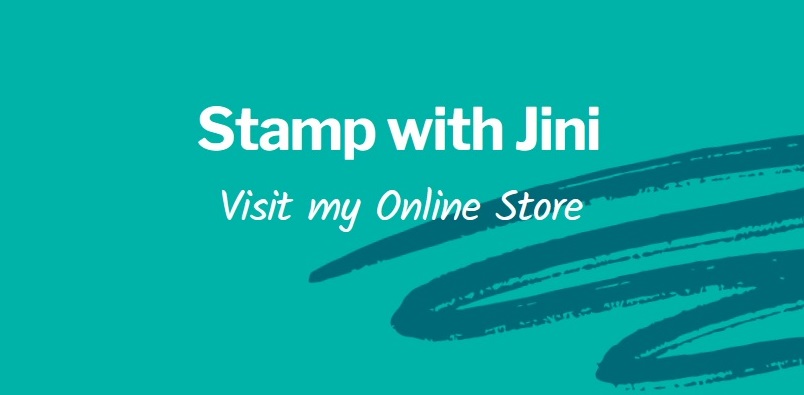 Click here to order your Stampin' Up! Products online 24/7! (US only)
Shop at my Online Store and use Host Code RJ24UYE7 with a product order of $50 or more and receive a FREE Gift from me!