Walk through the catalog with me in my 2020 Annual Catalog Retirement list video walk through.

We are visual folks, right? So let me walk you through the Catalog and I'll help you mark the items that are retiring on May 3rd so you have a quick easy visual so you can see things at a glance while you create your shopping list!    
Here is what you'll want to have:  
Highlighters
Printed lists (if you want one)
A comfy place with space to spread out
If you'd like to print the list to have while we mark our catalogs, I've provided them in the links below.  
Retired Stamps & Accessories List PDF
Then Shop with me Online
Make sure that you are shopping with me
You'll find my name, Jini Merck in the bar across the top of the screen or you can choose me while checking out.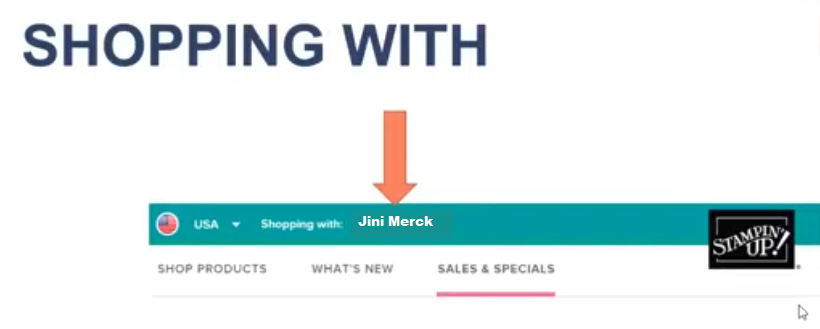 When you shop with me regularly you'll continue to receive free catalogs and promotions, etc.
What do I need to know To Get My FREE Gift?
Use my Host Code 9TYDDCU7 and get a free gift from me!
The 2021 Annual Catalog is right around the corner and I won't be able to mail you one if you have chosen no contact.
Are you eligible for a FREE Stampin' Up! 2021 Annual Catalog? I'm currently working on my mailing list for shipping the 2021 Annual Catalogs (and will be finalizing it by March 28th)
You'll be the first to get one (around late April) if:
Are you a frequent customer of mine?
If you ordered a minimum of $50 from me in the last three months (or 90 days) you are eligible to receive FREE Stampin' Up!Catalogs.
Have you hosted a Private Party? If you have gathered with friends in the last 3 months (or 30 days) you are eligible to receive FREE Stampin' Up! Catalogs.
Haven't ordered from me for awhile or are new? Place an $50 order with me during March and you are eligible to receive FREE Stampin' Up!Catalogs. (If you are placing an Online Order make sure your information is up to date, the mailing address is correct, and you've allowed me to contact you. if you didn't choose the contact option I can't mail you a catalog. You'll need to call Stampin' Up! directly at 1-800-782-6787 if something needs to be corrected in your Online Store profile).

Click here to order your Stampin' Up! Products online 24/7! (US only)
Shop at my Online Store and use Host Code 9TYDDCU7
Click Here to learn more about using the Hostess Code If you order Online make sure your profile information is up to date and you've allowed me to send you your free gift, a FREE Class using the Butterfly Brilliance Stamp Set that's available now as a sneak peek into the 2021 Annual Catalog.
If your Online order is $150 or more make sure not to use the host code so that you can take advantage of the Host Benefits yourself – No worries, I'll still send you your free gift. It's my way of saying thank you for choosing me as your demonstrator!