I know many of you are excited to order from the new 2020 August -December Mini Catalog.   So here are a few things to make your Online Shopping with me easier tomorrow.
Here are some highlights of the new Online Store:
The store is designed to work seamlessly on desktops, tablets,and mobile phones.
The site utilizes new, larger imagery to allow up-close details to be seen.
You can mark your favorite items for later reference, and can create and share personalized wish lists
A new Quick Shop feature makes it easy to add items to your cart. Includes a simplified the checkout process.
Products will now include back order and low inventory statuses
Coupon Codes and Host Codes have moved to under the "checkout box"
You can store your payment method
When will this happen?
The CURRENT online store will go disappear at midnight (MT) on the 4th of August and will remain offline permanently from that point forward.
The NEW online Store site will go live at 7:00 AM (MT) on the 4th of August, at which point you can start ordering from the 2020 Aug-Dec Mini Catalog and any other current product
What do I need to know?
Since this will be a brand new website, your account password will only work if you enter it manually (for the first time) as your saved passwords won't work.
If you know your password – then you're all set and to go.
If you have your password saved and bookmarked in your browser – You'll need to enter it manually as it will not "auto-fill" from your password safe.
If you DONOT remember your password, log into your account prior to the end of the day today. Create a new password and write it down so you can use it tomorrow.
After logging in on August 4th for the first time, you can save and bookmark your password again along with the new website.
Stuff happens and It is possible your password may or may not work on the new site. If it doesn't all you need to do is request a new password by entering your email address.
If you need to create a password after today, you'll want to look in your spam folder if you don't receive it fairly quickly.
Make sure that you are shopping with me
You'll find my name, Jini Merck in the bar across the top of the screen or you can choose me while checking out.   To make sure you are shopping with me and continue to receive free catalogs and promotions, etc you can use the always use my Host Code.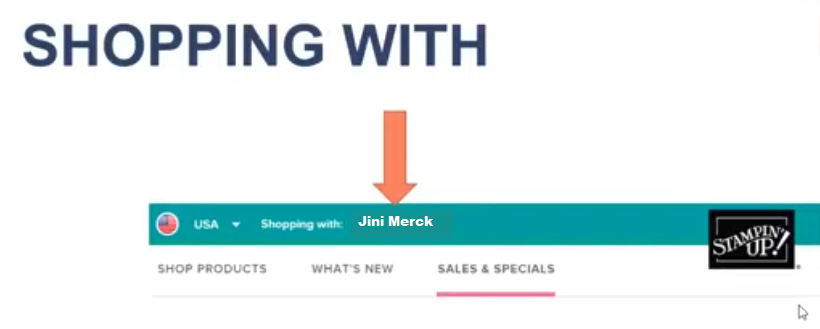 LAST DAY FOR BONUS DAYS!!!
Just a reminder – Today is the last day to earn Bonus Day Coupons that you can spend starting tomorrow! So why not get your favorite items from the 2020 Annual Catalog you can get your favorite Holiday products starting tomorrow using your coupons when the 2020 August – December Mini goes live in the new store?
And when you redeem your coupons you'll want to look for the new location to enter them tomorrow.
I'm excited about this update to your Online Shopping experience I think it is going to be great once you get use to it. As always if you have any problems please let me know. I'm always happy to help!

Click here to order your Stampin' Up! Products online 24/7! (US only)
Shop at my Online Store and use Host Code  K3AK2D2F
Use the Host Code and I'll send you a free gift when you spend $50 or more. It's my way of saying thank you!