Everyone loves crafting for the holidays and Stampin' Up! is giving us a Mini Catalog that is packed full of wonderful products! Our Holiday Catalog has been renamed and is now being called the August – December Mini, but you'll be thrilled to know it has the same great selection of products.
If you are a regular customer of mine you should have received your catalog in the mail. If you haven't received one yet, please contact me so I can get you your copy. Simply email me at StampwithJini@gmail.com
August – December Mini Catalog Organizational items – I bet you're wondering if I've got my organizational items for this catalog and if I'll be sharing them with you. Well of course I have, after all its a must. LOL! Seriously who doesn't love to organize their craft area, right? And with our fall crafting it's always great to have things at your finger tips.
I'll be posting these items over the next few days for you – so stop back by often. Or if you don't want to miss a thing, why not sign up to receive my blog posts right in your inbox? Click HERE to sign up (and then don't forget to click on the link in the email you receive to activate your request to receive my information)
NEW Online Store Goes Live
Just a quick reminder about my Online Store that's IMPORTANT :
Stampin' Up! has launched our new websites today. The links taking your directly to the product in my Online Store may not work as normal. They may simply work by taking you to my store but not to the product itself. If you have any issues placing an order with me please let me know. I'm happy to help.
Please remember these two very important things: When placing an order in the Online store: Please confirm you are shopping with me and that my name is listed as your Stampin' Up! Demonstrator (The new system will allow you to check out as a guest and bypass choosing a demonstrator. If that is the case I won't get your order information and I won't be able to mail catalogs, gifts, etc.). My name is listed as Jini Merck and I live in Clarkesville, Georgia.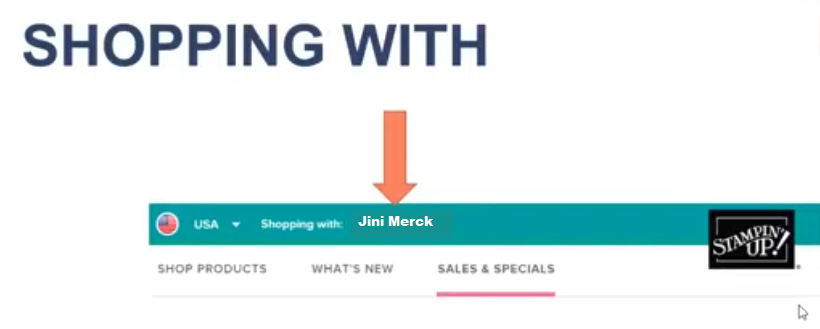 Since this is a NEW website, your bookmark and auto fill passwords may not work.
If that is the case you'll want to create a new bookmark and sign in that way, saving it again to your password safe if you use one. Also, because of this your password may not work. If that happens you will need to reset it. Because it is a new website and we are using a new email system for it, when you go to reset your password, the link emailed to you may go in your spam folder. So you'll want to check that if you don't see it right shortly after you request it.
Please know that I'm here to help in any way as always. There may be a few bugs to start with in the new Online Store, so if you prefer for me to place your order for you I can. We can get through this together as always.
Thanks and as always I appreciate you choosing me as your Demonstrator!
REDEEM YOUR BONUS DAY COUPONS STARTING TODAY!!!
You can start redeeming your Bonus Days coupons today! Place your order in my new Online Store or contact me to place the order. The choice is yours! But you won't want to delay since these coupons are only good until August 31st and then they are gone for good!
When using your coupons in my Online Store you'll want to enter them a bit differently than in the past. You will enter them in the check out screen.
And you'll enter them one at a time then hit the apply button and then repeat for the number of coupons you'll want to use.
Remember to make sure my name is at the top so I can send you your free gift!
Got a Big Shopping List? Join my team The Blue Mountain Stampers today and start saving!
Why not join my team and be a happy shopper? Right now is a great time to join with the new Mini Catalog and demonstrators get to preorder the Stampin' Cut & Emboss Machine during August. Yes, you read that correctly you can order it today when you join! As demonstrators we get to preorder products before they go live. Yippie! (It will go live in September).
Got questions? Here is some information and of course I'm happy to answer any questions you may have.
What are the Blue Mountain Stampers?
That's the name of our stamping community. I enjoy welcoming new members to our group. We're from all over. If you're considering joining Stampin' Up!, you may have questions about how I would support you as part of my team. I do offer a variety of ways to learn, grow and to have FUN as a Blue Mountain Stamper!
Exclusive Team Resource Page – videos, PDFs and more
Exclusive Face book Group – A great way to share and connect with other team members and share
Monthly Creative Challenges
Swapping Opportunities
Team Retreats
Meetings – both local and online/virtual
Monthly Crafting Day
Recognition & Incentives
Training available for workshops, clubs, classes and more!
Additional support and business coaching available
We have a very active group that share and answer each other's questions in our Exclusive face book group. If you're looking for fun, a place to grow and share with others…You'll fit right in!
Hobbyists are welcome!
Did you know? 90% of my Blue Mountain Stampers' are Happy Shoppers – purchasing for themselves, (along with their family and friends.) That's right…you can just get a discount on products you love!
We welcome the hobbyist who's looking to be a "happy shopper" (and save money), as well as those of you that want to build a business (and make money).
Everyone is welcome after all there's room for both and everyone in between.
And there is NO Obligation when you purchase your starter kit – It's the best Kit in the Catalog!!!
Click HERE to learn more about my team and joining today!
Click here to order your Stampin' Up! Products online 24/7! (US only)
Shop at my Online Store and use Host Code K3AK2D2F
Use the Host Code and I'll send you a free gift when you spend $50 or more. It's my way of saying thank you!
Click Here to learn more about using the Hostess Code If you order Online make sure your profile information is up to date and you've allowed me to send you your free gift.
If your Online order is $150 or more make sure not to use the host code so that you can take advantage of the Host Benefits yourself – No worries, I'll still send you your free gift. It's my way of saying thank you for choosing me as your demonstrator!