A day crafting with others is always fun! And it's even more fun when you are being pampered, right? Earlier this month I held my first Blue Mountain Day Retreat and I think everyone who attended enjoyed it. We stamped, laughed, and shared!
So today I thought I'd share some of the pictures I took before the retreat. At least I remembered to do that – sorry, I forgot to snap some pics during the retreat, wouldn't you know.
Here are the tables set up and ready to go, everyone had a 6 foot table of their own.
And of course, my corner store which included finished items and cards, along with Paper Pumpkin and other kits and even items to decorate, retired cards stock, ribbon and other accessories for those who had forgotten something or just wanted a little extra something for their project.  Everyone had access to all my stamp sets and Big Shot items since they were available for use during the Retreat!
"Goodie Bags" were waiting for everyone at their seats along with their name tag.
Their Make n Take packets in addition to the goodies were used to complete their 4 projects that day with lots left over so they could make more with the instructions they got!
I made these cute little pencil holders up for everyone using the Birthday Bouquet Designer Series Paper (140557) and Suite Sayings stamp set (140709/140712).
And here are a couple of the pillow gifts they received that day. First is a memo pad.
I love the way this turned out using the Picture Perfect stamp set (140520). I knew when I saw it, the stamp set was perfect for these little memo pads I found a while back!
I used Rose Red and Blushing Bride Classic Ink to create this wonderful cabbage rose from the set – and since the set was photopolymer it was easy to line up the 3 different images that make up this flower.
Notice the Blushing Bride polka dot pattern? It's from out Subtles Collection Designer Series Paper Stack (138437) so you can make a bunch of these memo holders up!
And here is a cute little kiss holder I made using the Tin of Cards stamp set (138946) and the Love Blossom Designer Series Paper Stack (140548).
If you'd like to learn how I made these little kiss holders you can click HERE to see a video tutorial showing you how. They are soooo easy to make and who doesn't like chocolate?
Here is a photo of all the pillow gifts and goodies I made for the day retreat.
And since everyone asked for the soup recipe I made for lunch, I thought I'd share it with you today too. I think it's yummy and soooo easy to make.
Joy's Easy White Chili
2 T. bacon drippings
1 medium Onion, chopped
1 (4oz.) can chopped green chilies
2 tsp. garlic powder
2 tap. Salt
2 tsp. ground cumin
2 tsp. dried oregano
2 tsp. ground coriander
½ tsp. cayenne pepper
3 (15 oz) cans Luck's Great Northern Beans, un-drained
2 (14 ½ oz.) cans Swanson Chicken Broth
3 (10oz) cans Hormel Premium Chicken Brest, drained
8 oz. extra sharp Cheddar Cheese or more to taste
Brown onion in bacon drippings. Add all ingredients to a large pot and bring to a boil, reduce heat and simmer 15 minutes. Or for a Crock pot,  Cook on high 2-4 hours.Serve with corn chips.
So what do you think? Look like fun? Does this look like something that you'd enjoy doing? Twelve hours of uninterrupted crafting time? Well if it is something you'd enjoy or this past retreat date didn't work for you, you'll want to watch my calendar of events – I hope to be doing more of these events soon!
Want my event calendar sent straight to your inbox? Sign up for my Newsletter HERE. Confirm your request and you'll receive a tutorial when you do. Along with news from me and tips and tutorials too!
NEW Weekly Deals for March 15th!
Last Day to Save with my Anniversary Adhesive Special!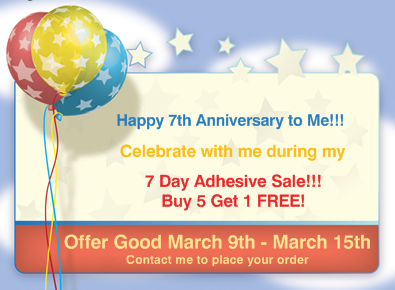 Contact me today to place your order stampwithjini@gmail.com or 706 754-7124
Click here to order your Stampin' Up! Products online 24/7! (US only)
Use Hostess code FMSYEJYU and get a free gift!