Yesterday was my monthly Team Meeting and while I always enjoy these gatherings yesterday was extra special because I was able to surprise with my box that arrived just in the nick of time – So everyone was able to get their first look at the 2019 Holiday Catalog products too. Who doesn't love that?
Here is a picture of my table spread out with PreOrder goodies for everyone to see.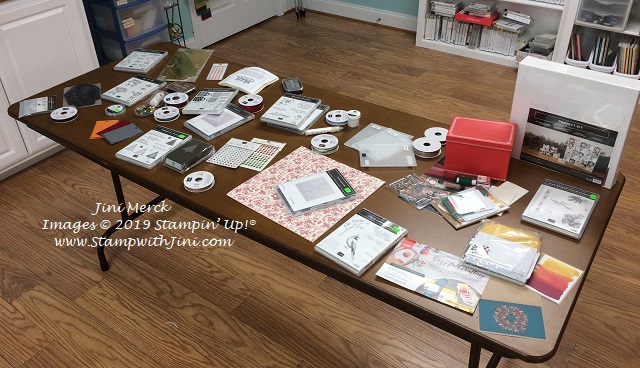 And I did a very quick unboxing video the night before of my Holiday Catalog Preorder goodies for you too. I had hoped to share it yesterday evening, but the day went by too fast.
2019 Holiday Catalog Preorder Goodies Video
So what do you think? Does the Holiday Catalog look like it will be a lot of fun? I'm really looking forward to this weekend and my Team Retreat where I'll get some uninterrupted play time!
Mean while would you like to see some of the wonderful swaps my team made? I can't pick a favorite – can you?
This first swap is a 3d and you know how I love those! This great little Good Morning Magnolia Bag was filled with a couple of pieces of chocolate, Magnolia Lane Designer Series Paper covered note pad and pen.
No, the chocolate didn't survive long, but I'll be enjoying the note book and pen for a while yet. LOL
And here is a wonderful card made with the Friend Like You stamp set (149237) and Friendly Silhouette Dies (149546) that come in a bundle.
I really love the soft feel of the sponged sky as a back drop.
And this next card was made using the Daisy Lane stamp set (149325) and both the Daisy Punch (143713) along with the Medium Daisy Punch (149517). Isn't it great we've got two sizes of Daisy punches now?
And this final card was created with one of our past Product Medley Bundles, Everything is Rosy.
I'm soooo glad that Stampin' Up! will be offering another one of these Medleys in our Holiday Catalog. So watch for that coming soon.
Stamping, Laughter and Fun… The Blue Mountain Stampers
So what do you think? Love the new items in my Holiday Catalog PreOrder video too? It's just a peek of what's inside the 2019 Holiday Catalog! And as I am sure you can guess, being the first to see this new catalog or any of our new catalogs is a very exciting AND a  huge perk of being a Demonstrator – after all who wouldn't want to be first? Right!  Add the fact that you'll receive a discount on all these products and you can't loose!
If you feel this is a good time to join Stampin' Up! and my team, the Blue Mountain Stampers, you too can be first too!
What are the Blue Mountain Stampers?
That's the name of our stamping community. I enjoy welcoming new members to our group. We're from all over. And if you're considering joining Stampin' Up!, you may have questions about how I would support you as part of my team. I do offer a variety of ways to learn, grow and to have FUN as a Blue Mountain Stamper!
Exclusive Team Resource Page – videos, PDFs and more
Exclusive Face book Group – A great way to share and connect with other team members and share
Monthly Creative Challenges
Swapping Opportunities
Team Retreats
Meetings – both local and online/virtual
Monthly Crafting Day
Monthly Lunch & Learn
Recognition & Incentives
Training available for private parties, clubs, classes and more!
Additional support and business coaching available
We have a very active group that share and answer each other's questions on our Exclusive face book group. If you're looking for fun, a place to grow and share with others…You'll fit right in!
Hobbyists are welcome!
Did you know?  90% of my Blue Mountain Stampers' are Happy Shoppers – purchasing for themselves, (along with their family and friends.) That's right…you can just get a discount on products you love!
We welcome the hobbyist who's looking to be a "happy shopper" (and save money), as well as those of you that want to build a business (and make money).
Everyone is welcome; after all there's room for both and everyone in between.
And there is NO Obligation when you purchase your starter kit – Join the Blue Mountain Stampers and see what it's all about!

Click here to order your Stampin' Up! Products online 24/7! (US only)
Shop at my Online Store and use Host Code Q2UWTQRW Place a qualifying order of $35 or more with me between now and August 18th and use this host code get a FREE Daisy Lane Note Card & Box Class!