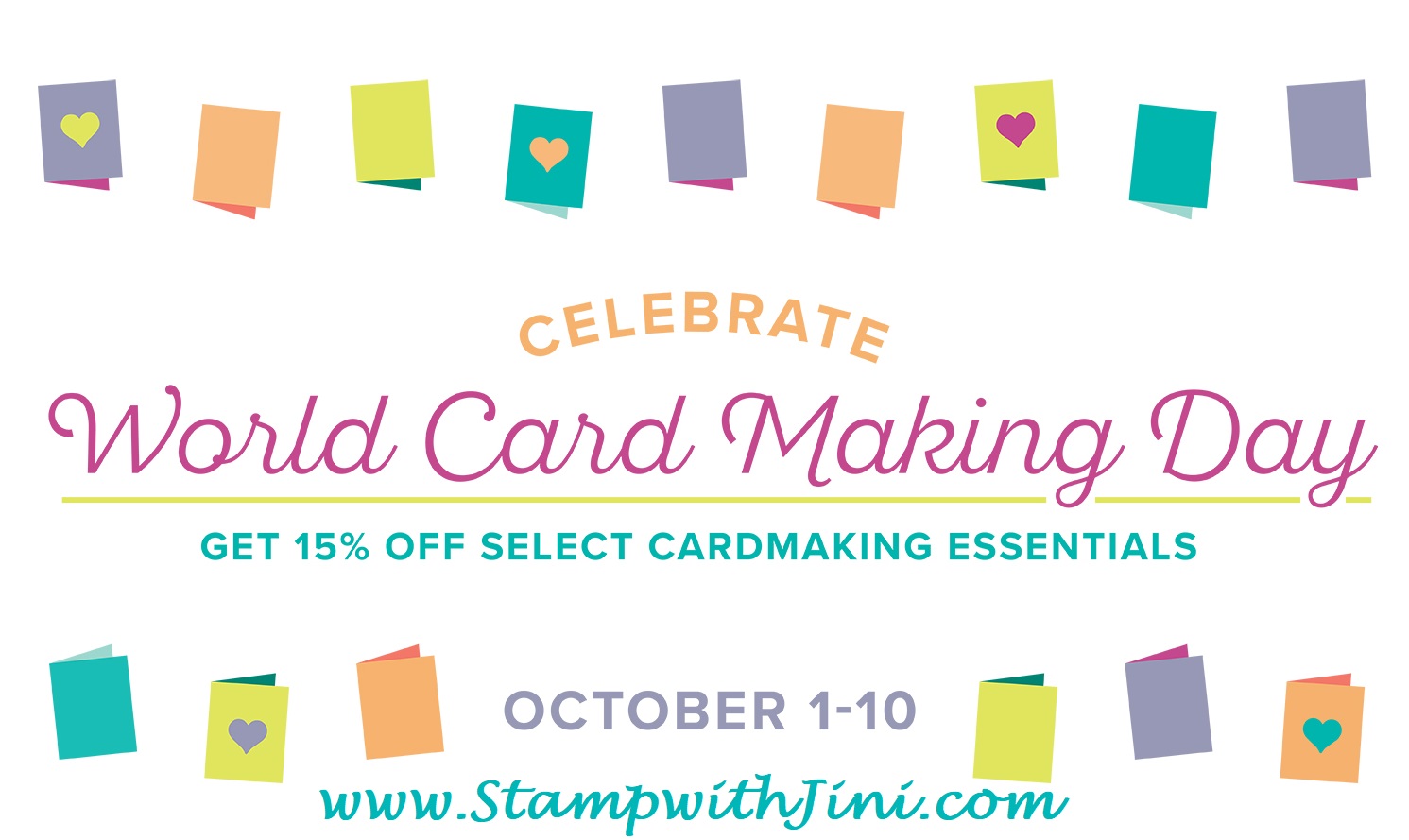 World Card Making Day is October 7th this year – but Stampin' Up! is giving us 10 days to celebrate! Why not take advantage of this wonderful promotion and get some new stamping goodies to use?
Want to see all the fun items that are being offered at  15% Off?
Click HERE  or on the flyer image above to see 2 pages full of great deals!!!
But hurry because these deals are only available until October 10th at 11:50 pm (MT)
Here is the fine print:
Promotion period: October 1–10, 2017
All order types qualify for this sale.
The Fast Fuse Adhesive deal will not work when ordered on a Starter Kit or with Stampin' Rewards. All other items may be added to a Starter Kit or with Stampin' Rewards at the sale price.
Phone or email me: October 10, 2017, by 6:50 PM (ET)
My Online Store: October 10, 2017, by 11:50 PM (MT)
And to make the month of October even sweeter – You can  Buy 3 and Get 1 FREE  with the Designer Series Paper promotion.

Whoo hoo! now you can get your favorite papers AND save! And since the holidays are right around the corner it's a perfect time to stock up for your holiday cards and gift giving!
Scroll down to see some wonderful projects using items from BOTH of these promotions!!
Click HERE or on the image above to get a printable PDF flyer
Here's the fine print:
Sale period: October 1–31, 2017
All order types qualify for this promotion.
There is no limit to how many times you can buy three packages of Designer Series Paper and get one free during this sale.
You can choose which three packages of Designer Series Paper you will order from the sale items and which package to receive for free.
Designer Series Paper purchased as part of a Starter Kit does not qualify for this sale.
Designer Series Paper ordered with Stampin' Rewards does not qualify for this sale.
Sales Deadlines
Phone or email me: October 31, 2017, by 6:50 PM (ET)
My Online Store: October 31, 2017, by 11:50 PM (MT)
Here are some wonderful projects made using these stamp sets & the Designer Series Paper from October's Promotion too?
Colorful Seasons and the Color Theory Designer Series Paper Stack were used to create this cheerful fall note card.
And did you know the other day was National Coffee Day? After all who doesn't know someone who LOVES coffee? This fun note cards was made using the Coffee Break Designer Series Paper and the Coffee Cafe Stamp set. This suite of products is near an dear to my heart, after all I love anything coffee & tea – why not check it out on page 31 of the Annual Catalog? There are tons of coordinating products that work with this set!
And how about the Brightly Lit Christmas stamp set and Christmas Around the World Designer Series Paper? You can make this fun note card for your family and friends. For more coordinating products, check out page 28 & 29 of the Holiday Catalog.

Click here to order your Stampin' Up! Products online 24/7! (US only)
Shop at my Online Store and use Hostess Code RDZGJVPC during October and receive a free gift from me with a qualifying order of $50 or more in product! You'll receive my 2017 Color Ring with a swatch of all 50 current colors all on a convenient ring!
Click Here to learn more about using the Hostess Code If you order Online make sure your profile information is up to date and you've allowed me to contact you so I can mail you your FREE gift!
#HurricaneRelief & #Making a Difference
I'm donating the sales from my hand stamped cards that you can purchase. To learn more Click HERE.
Sign up for my FREE Newsletter My Newsletters include stamping tips, ideas and updates on what is happening with me! You'll also receive a FREE Class Tutorial using the 2017-2019 In Colors when you sign up!
Save
Save
Save
Save
Save