This 2019 Occasions Catalog will go live on January 3rd – And I know you'll want all of the wonderful Designer Series Paper. How would like to get a piece of all the Designer Series Paper in the 2019 Occasions Catalog for just $23?
Why not join my Designer Series Paper Share?
What is a paper share?
A paper share is a group of people sharing a group of items – this time Designer Series Paper. Here is how it works. The share gives you a piece of all the patterns from 7 packages of Designer Series Paper in the 2019 Occasions Catalog!
What will I get? This Share includes the following: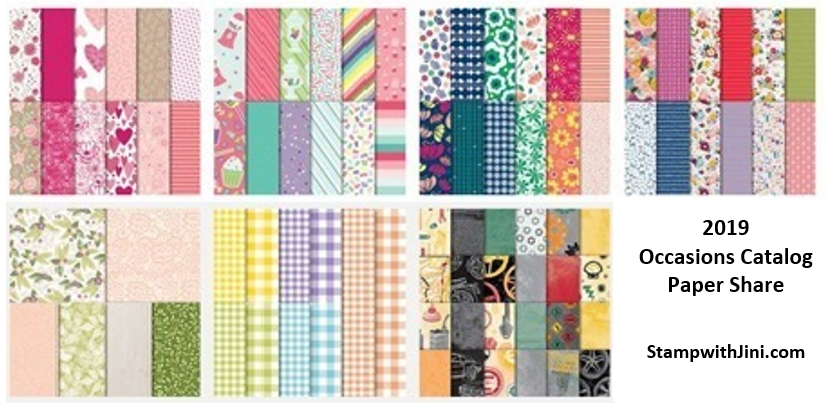 This share includes 45 sheets of Occasions Designer & Specialty Paper here is the break down
All My Love, How Sweet it Is, Happiness Blooms, and Needlepoint Nook Designer Series Paper: 6 x 12 of 6 double sided patterns from each pack
Floral Romance Specialty Designer Series Paper Stack: 6 x 12 of 2 double sided patterns and 6×12 of 2 Vellum patterns
Gingham Gala Designer Series Papers: 6×6 of 5 double sided patterns
Classic Garage Designer Series Paper Stacks: 6×6 of 12 double sided patterns
Cost $23 for each share (plus shipping)
You are welcome to get more than one share; spots are not held until payment is received.
Postage is $7, due to the flat rate legal envelope size and the 6×12 Designer Series Paper. Please include your address that you'd like your package sent to.
This is like our own little Paper Stack and it is a cost effective way to "get it all".
If you love Stampin' Up! like I do – you know I want to share it with you. If you were to purchase all of the Designer Series Paper by yourself it would be a lot more, but by joining my share you'll be joining other paper crafters to get a taste of all the papers at a fraction of the cost. And who doesn't love that? The share price is based on the price listed in the Stampin' Up! 2019 Occasions Catalog.
Fine print:
There are 4 spots for each share; I'll do as many shares as there is interest and will order the share as soon as all the spots are filled. Once the share is filled I will send you a PayPal invoice.
I'm doing this as a special service for you and would need payment by the end of the day January 2nd if you would like to participate and get yours as soon as the catalog launches.
Bonus 6×6 Sale-a-bration Share: Order and Pay for your share by January 2nd and you'll receive a 6×6 Bonus Share of the Sale-a-bration Designer Series Paper, Botanical Butterfly.
How to Reserve a Paper Share :
You'll need to email me or call me to hold your spot ASAP, because spots will be filled first come first serve, and there isn't a lot of time before I need to place the order on January 3rd so you get yours as soon as the catalog goes live.
NOTE: The first share if placed on January 3rd can be expected in about 2 weeks after I place the order. Here is how my paper shares work… first I save your spot and collect your payment, then I place the order, receive the order, cut and package the paper, package up your share for mailing and then take them to the Post Office to ship.
EMAIL me directly at StampwithJini@gmail.com with your information listed below to save your spot in the share: (Note: For multiple shares – contact me for a shipping quote…a Flat Rate Envelope can hold quite a bit).
Please include the following information in your email:
1. Full Name
2. Mailing Address (US only)
3. Indicate how many Paper Shares you would like to reserve (see choices below)
4. Email for PayPal invoicing
When your shares fill, I will email a PayPal invoice for payment process. I will then place my order with Stampin' Up! once payment is received for the share.
PayPal is easy — and a PayPal account is not required to make your payment. Just an email address and credit/debit card. When you receive your PayPal invoice by email, you can choose to pay using your PayPal funds or by a credit/debit card. Simply follow their instructions to make your payment via the method that is most convenient for you. It should be simple!

And of course if you would like to order something else at the same time just let me know.
And if you haven't received your 2019 Occasions Catalog they're here! Just yet let me know and I'll tell you how you can get one!
Let me know if you have any questions – feel free to call me 706 754-7124 or email me at stampwithjini@gmail.com.

Click here to order your Stampin' Up! Products online 24/7! (US only)
Shop at my Online Store and use Host Code KN4BHBZQ
Click Here to learn more about using the Hostess Code If you order Online make sure your profile information is up to date and you've allowed me to contact you (If you chose no contact in the past you'll need to call 1-800-Stamp Up to have them change your profile for you.)
Sign up HERE for my FREE Newsletter or Get my Blog Posts delivered right to your inbox HERE