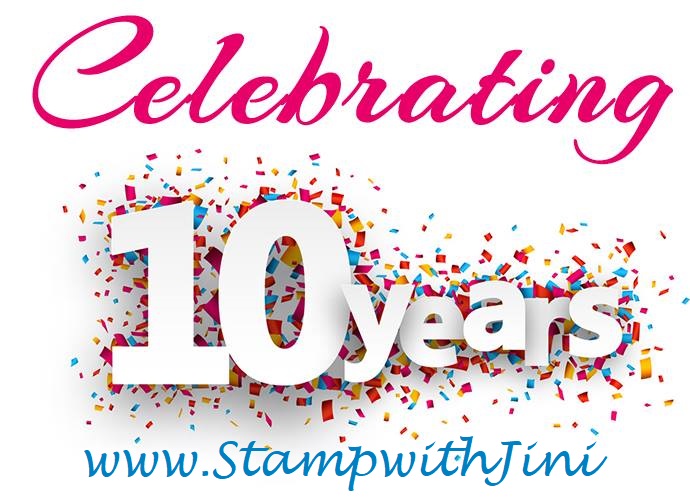 Wow, I'm celebrating my 10 year Anniversary as a Stampin' Up! Demonstrator this month and boy the time has flown. Like most demonstrators I joined for the 20% discount so I could get more of the products I love.
So I never thought I'd also be Celebrating my 10 Year Anniversary AND a personal sales goal of $100,000 – that's a lot of stamps, ink, and card stock! What a journey it has been from wanting that initial kit and discount to hitting this personal sales goal!
I didn't intend to do classes or parties – and look where I am 10 years later with the initial small push of my good friend Debbie to teach her and some friends how to make Easter Treats!
Whew! I never dreamed it would lead to so many wonderful friendships, getting to know so many great crafters, and even attending Stampin' Up! events like Center Stage at Disney's Epcot last November. In addition I've grown and learned so many new things; blogging, YouTube, things that weren't in my vocabulary 10 years ago when I just wanted to create cards and gifts for family and friends.
So THANK YOU!  I have so many to thank. . . my family for their patience and for never complaining (at least not much) about my crazy schedule and long work weeks… my amazing, stampers and customers for finding me and stamping with me . . . my wonderful team members, The Blue Mountain Stampers, who share and inspire me in so many ways . . . my adopted upline, Kathleen Innes for taking me under your wing, challenging me, and having faith in me while answering all those questions when I was a newbie and starting my first blog. My adopted SINKS sisters and their leader Susan Barron for encouraging me along the way and opening up next experiences for me . . . and Stampin' Up! for giving me the confidence in myself and a chance to grow and share. And YOU!
And since I couldn't do what I love with out you… I wanted to give a little something to those that placed orders the day I hit my $100,000 sales goal – These little sets of exclusive Stampin' Up! notebooks will be going to Mary and Pat, as a small token of my appreciation.
I also want to share my 10 Year Anniversary Celebration and with YOU!
So what is happening starting today?
Anyone who places an order will receive a GIFT from me!
Please Use Hostess Code: 44SNJGKN
I'll include a special hand stamped card (that I've designed in your package) along with the following:
• Receive 10 hand stamped cards with any order and a package of Mini Stampin' Dimensionals with any $35 order
• Get an ADDITIONAL FREE package of Share What You Love Artisan Pearls with any $60 order! (You'll also get to choose your FREE Sale-a-bration item!)
*Get an ADDITIONAL FREE roll of 1/8″ Sheer Ribbon with any $100 order!! (I'll send Whisper White unless you email me your choice of color the day of your order. Choose from Calypso Coral, Fresh Fig or Old Olive). In addition you'll get to choose 2 FREE Sale-a-bration items!
*If you place an order over $150 or more please DO NOT use the Hostess Code!  You will still get my FREE goodies for my Anniversary Celebration in addition to the $15 (or more!) FREE product in Host Benefits and your 3 FREE Sale-a-bration items when you checkout!!
I will be sending out your free gifts by April 10th by mail; or as soon as the order comes in and I can package things up for you!
Fine Print: When you order Online make sure your profile information is up to date and you've allowed me to contact you Or I won't be able to send you your GIFTS (If you chose no contact in the past you'll need to call 1-800-Stamp Up to have them change your profile for you.)
This Celebration Offer will continue for the next 10 days – (one day for each year I've been a demonstrator) and will end on Friday, March 22nd.
It's my way of saying thank you for your choosing me as a Demonstrator. I truly appreciate you and value the opportunity of sharing what I love with you!
I want to continue growing and sharing my love of stamping – So if you have never stamped with me and live locally I want to invite you to join me at my monthly card class this month (Thursday, March 28th) as my guest. You'll want to RSVP so I know to have enough supplies for everyone. CLICK HERE to see my Calendar of Events. I'm hoping that you too may find the joy of creating and the blessing others with your creativity.
Already a current customer? Bring a friend and get a FREE gift from me

Click here to order your Stampin' Up! Products online 24/7! (US only)
Shop at my Online Store and use Host Code 44SNJGKN
Click Here to learn more about using the Hostess Code If you order Online make sure your profile information is up to date and you've allowed me to contact you (If you chose no contact in the past you'll need to call 1-800-Stamp Up to have them change your profile for you.)
The Annual Catalog is right around the corner and I won't be able to mail you one if you have chosen no contact.
Sign up for my FREE Newsletter My Newsletters include stamping tips, tutorials, ideas and Classes!