Well I'm glad to see that whatever black out issue that was going on yesterday is now fixed – technology… some days it can be a frustrating thing in our lives, others a blessing.
Well the good news is I can share more information about my upcoming Christmas Card Stamp-A-Stack with you. Last year this format was a big hit so we'll be doing it again. And since I couldn't make a choice between card designs you can choose from 6 instead of the 5 we had in the past.
What is a Stamp-A-Stack? It's a class where you multiples of the same card so that you can get your Christmas cards done before the holiday rush since I've done all the designing and cutting for you!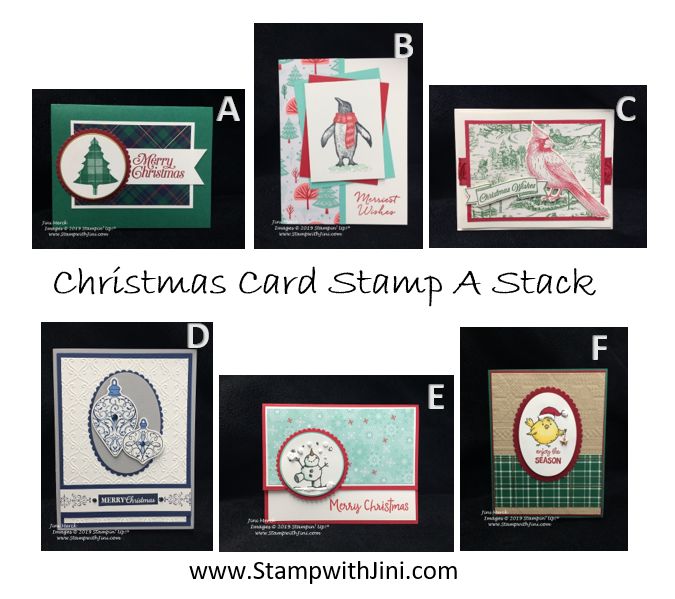 Create 10 cards per set, choose from 6 different designs, and Make as many sets of 10 as you want!
Cards are clean and simple designs.
YOU choose which designs you make, and you have 6 to choose from!!!
Thursday, November 7th 10 am – 4 pm
OR
Saturday, November 9th 10 am – 4 pm
Work at your own pace. Everything is included except your favorite Adhesives.
Class Fee: $15 (per set of 10 cards)
Buy 4 sets and get the 5th set for FREE!!!
Choose as many sets as you want; there is no limit!
R.S.V.P and Prepay by Wednesday, October 23rd
to hold your spot
Don't forget to tell me how many of each design option you want
I'm offering an upgrade option this year so you can have your own set of Stampin' Blends to complete the class. As always, feel free to substitute another color if you need to. Simply email me your RSVP and let me know the changes along with your payment method.
Class Add On Stampin' Blends Option:
• Option Card D Stampin' Blends: Cost $10.50
Includes 2 Stampin' Blends: Night of Navy Light and Seaside Spray Dark
• Option Card E Stampin' Blends: Cost $21
Includes includes 4 Stampin' Blends: Smoky Slate Light, Pumpkin Pie Dark; Pool Party Combo Pack
• Option Card F Stampin' Blends: Cost $26.25
Includes 5 Stampin' Blends: Cherry Cobbler Dark, Daffodil Delight and Pumpkin Pie Combo Packs
• I want it All (includes Stampin' Blends for D, E, F): Cost $50
Includes 10 Stampin' Blends: Smoky Slate and Night of Navy Light, Crumb Cake and Seaside Spray Dark Pumpkin Pie, Pool Party, and Daffodil Delight Combo Packs
Prepay by Wednesday, October 23rd to have your Stampin' Blends for Class
Not local? Or want to stamp on your own schedule? See my Class to Go Kit Option HERE on my Calendar of Events
Need Adhesive? No problem, pick yours up at the class.
Click on my Calendar of Events or Email me (StampwithJini@gmail.com) to RSVP and hold your spot
Here is the fine print –
• There a 6 card designs to choose from; you tell me which ones you'd like to make
• You'll make a stack of 10 each design/designs you choose
• You can choose to do as many designs or stacks of 10 as you'd like to
• Envelopes are included
• Adhesives are not provided
• You work at your own pace
• Come to one of the times or both; it's up to you!
• You can choose an add-on Stampin' Blends option if you'd like your own to work with
• Add On options must be paid for at the same time as class payment so I'll have everything here for you to work with the day of the event.
Let me know if you have any questions. Simply email me at StampwithJini@gmail.com or call 706 754-7124

Click here to order your Stampin' Up! Products online 24/7! (US only)
Shop at my Online Store and use Host Code YS9WN2UA
Click Here to learn more about using the Hostess Code If you order Online make sure your profile information is up to date and you've allowed me to contact you (If you chose no contact in the past you'll need to call 1-800-Stamp Up to have them change your profile for you.)