Do you ever think that you've done something and then realized you totally didn't do it? Well that is what happened with today's post – I thought I'd already shared my DIY  experience with you, but instead the photos got lost on my computer. LOL!
Earlier this month I had the opportunity to be a vendor at the Georgia DIY Retreat held by the Salvation Army in Jasper, Georgia at Camp Grandview with 80 lovely ladies. It was a wonderful weekend of fellowship and crafting, of all types! What could be better right?
When I arrived I set up my vendor space with all kinds of Stampin' Up! goodies to choose from. (I wasn't sure what to expect for the DIY weekend since this was my first vendor event, but next time I'll be more prepared.)
And of course I set up my crafting space too as we all started to arrive!
I worked on some past kits and retired items that I had – I plan to use the cards as part of my Christmas gifts this year for family and friends.
What a wonderful space we had in the chapel to craft in.
For meals we walked to the dining hall which was decorated so cute. Each table had a bee themed decoration.
It's was such a treat not to have to cook for the weekend! And at each meal we were given a bible verse made by the different Salvation Army Divisions from all over the state of Georgia. Each was uniquely decorated and while they were all so different they were all beautifully done.
I got to learn more about the Salvation Army and their work in the community. If you'd like to learn more about the Salvation Army too check out their link HERE. During one of the meals Karen shared the story about WWII Donuts girls that I'd never heard before. (It really peaked my interested so I need to do a bit of googling.)
And  of course, there was LOT'S of crafting going on – over the weekend. Sewing machines and computers were humming, knitting, scrap booking, and even furniture was being painted and upholstered. I think every type of crafting project was represented. It was a lot of fun to see what everyone was doing.
I took a couple of wonderful skills classes – what a treat. I'm a life long crafter and love to learn new things! I couldn't resist signing up for Rebecca's class – the project was so cute and perfect for Easter and spring.
And these little bunnies were so easy to make! (We used Vaseline to create the crackle effect on the paint, but I'm not sure how well that is going to hold up with time and storage. Hmm….) They are hanging out to welcome everyone in my classroom bath.
They make me smile every time I see them.
I also taught a skills class – A Spinner Card class and got to paper craft with some lovely ladies whom I enjoyed getting to know.
Want to see the cards we made?
Two great movement cards! Everyone seemed to have a lot of fun making the cards – And the Shooting Star stamp (141616/141619) set fit in perfectly with the theme of the retreat Bee Still and Wait for the Glue to Dry!!! LOL!
So today I thought I'd share a FREE PDF Tutorial for the two cards so you can make them too.
Shooting Star Slider Card PDF Tutorial (printable)
Balloon Adventure Card PDF Tutorial (printable)
If you haven't build a spinner or slider card yet – You can watch the Getting Started with Slider Cards Video Tutorial HERE.
And Great news: Right now during Sale-a-bration, when you purchase the Shooting Star Bundle (142349/142350) or make ANY $50 purchase in product you can get the Animal Party Designer Series Paper for FREE today! You'll want to use Sale-a-bration item #147365 (since the regular number won't work as a Free item). But you won't want to wait since Sale-a-bration ends tonight at 11:50 pm MT!!!
And I couldn't resist one final photo as I walked to breakfast of the breath taking mountain view.
Click here to order your Stampin' Up! Products online 24/7! (US only)
Shop at my Online Store and use Hostess Code 7FDWKVA7 when you order
Click Here to learn more about using the Hostess Code
Sale-a-bration  –  MORE FREE ITEMS!!!
Sale-A-Bration has flown by! Times flies when you're having fun, though, right? Only a few days are remaining during Sale-A-Bration and Stampin' Up! has added additional products for you to choose from!!!
Don't forget you have until tonight at 11:50 pm MT, March 31st to earn free products, join the fun and earn additional $25 in hosting rewards.
Click here to order your Stampin' Up! Products online 24/7! (US only)
Shop at my Online Store and use Hostess Code 7FDWKVA7 when you order
Click Here to learn more about using the Hostess Code
Sale-a-bration is a great time to join!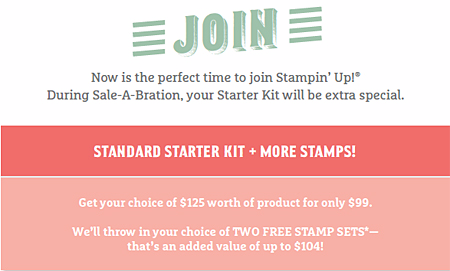 Join the Blue Mountain Stampers
What are the Blue Mountain Stampers?
That's the name of our stamping community. I enjoy welcoming new members to our group. We're from all over. If you're considering joining Stampin' Up!, you may have questions about how I would support you as part of my team. I do offer a variety of ways to learn, grow and to have FUN as a Blue Mountain Stamper!
Exclusive Team Resource Page – videos, PDFs and more
Exclusive Face book Group – A great way to share and connect with other team members and share
Swapping Opportunities
Team Retreats
Meetings – both local and online/virtual
Recognition & Incentives
Training available for workshops, clubs, classes and more!
Additional support and business coaching available
We have a very activity group that share and answer each other's questions on our Exclusive face book group.  If you're looking for fun, a place to grow and share with others…You'll fit right in!
Hobbyists are welcome!
Did you know?  90% of my Blue Mountain Stampers' are Happy Shoppers – purchasing for themselves, (along with their family and friends.)  That's right…you can just get a discount on products you love!
We welcome the hobbyist who's looking to be a "happy shopper" (and save money), as well as those of you that want to build a business (and make money).
Everyone is welcome after all there's room for both and everyone in between.
When you join during the Sale-a-Bration promotion, not only will you get the fabulous starter kit for only $99 (and free shipping), but you also get to choose TWO FREE STAMP SETS (that's an additional value up to $104!)
And there is NO Obligation when you purchase your starter kit – Join the Blue Mountain Stampers and see what it's all about!
Learn More about the Blue Mountain Stampers
Join the Blue Mountain Stampers
Last Chance for FREE Sale-a-bration items with the purchase of Paper Pumpkin PrePaid Subscriptions