Today I thought I would share some of the Holiday Catalog swaps that I received during OnStage in Atlanta last weekend along with some more pictures.
I am going to begin with a 3d items I received – a cute tic tac holder using the Perfectly Plaid Suite of Products (153326). Absolutely adorable and perfect to give a little something!
And here are a couple of lovely cards. This first one uses the Perfectly Pines stamp stamp set (149418) teamed up with our Mosaic Mood Specialty Designer Series Paper 9149478) from the Annual Catalog.
It is a square card that has a fun fold and opens a bit differently. Slip off the belly band and here is what you have.
fun, right?
And how about this elegant card using the Light & Peace stamp set (150516)?
Done in Blackberry Bliss it uses our Champagne Foil Sheets (144748), Mosaic 3D Embossing Folder (149575) along with our Silver (109131) and Shimmer Black Embossing Powders (149512).
These pictures just don't do justice to these projects. (I'm still getting use to my camera and am really missing my old phone lol)
CentreStage
Friday night, Leaders gathered for what we call CenterStage, this is an event that includes a lovely evening of pampering before OnStage.
Susan and I stopped for a snap shot before going in. Who would have thought all those years ago she would inspire the dream of becoming a leader and earn an Incentive Trip. My husband Larry, joined me for the meetings after work regularly 10 years ago since we car pooled to his job after we moved. During one of the meetings, Susan spoke about the Alaskan Cruise which was the incentive trip that year. On the way home I can remember Larry asked me if I could do that to. I said yes, anyone could. He was so excited by the idea and has patiently supported me over the last 10 years as I worked toward this goal – and here I am! I am so appreciative and blessed to have earn the Maui trip and he's soooo excited too!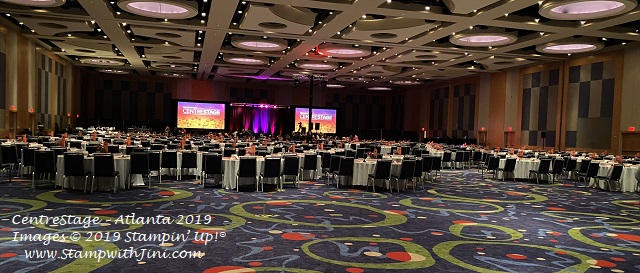 I truly enjoy CentreStage as it is smaller and a chance to connect with old friends and meet new friends. Here I am with Lori whom I met during our first Atlanta OnStage years ago
And Barbara whom I've been doing my organized swaps with for years.
Stampin' Up! is always very generous and there is always a special gift for us at the table
Our swag bags that include the NEW January – June Mini Catalog and Sale-a-bration Brochure, Squeal!!!
And we have a chance to hear news about what is going to happen and speak with the folks from the home office.
Here I am with Tanner, who is over the Southeast Area. I think it is always fun to see the people we work with online. Don't you?
Just a little taste of what last Friday was like. Stop back by – I'll be share more swap swaps and more!

Click here to order your Stampin' Up! Products online 24/7! (US only)
Shop at my Online Store and use Host Code KTYQJ3TY
Click Here to learn more about using the Hostess Code If you order Online make sure your profile information is up to date and you've allowed me to contact you (If you chose no contact in the past you'll need to call 1-800-Stamp Up to have them change your profile for you.)
Sign up HERE for my FREE Newsletter or Get my Blog Posts delivered right to your inbox HERE