I'm loving my Stampin' Blends and as my collection has grown I've needed to find a better way to hold them. And since I'm a very visual person I wanted to be able to see the colors easily too, rather than them laying in my drawer. Here is what I came up with after checking out my options.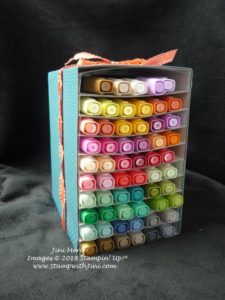 Want to see how I made it? You'll need just a couple of things: a package of our Acetate Card Boxes, Tear & Tape,  tag board (such as Designer Series Paper backing), and 12×12 Designer Series Paper of your choice
I will say I have a couple of things I would do differently. I used the white tag board from our Designer Series Paper. I found this was not stiff enough and would use our Glimmer Paper or Specialty Designer Series Paper backing the next time to give it more support. I would also add card stock strips to each layer so that see the color and so I know where to place my markers when I'm finished. (Since each shelf holds 3 combo sets I'd simply cut the 3 colors for each shelf and add them to the top of the heavy tag board to make them pretty!)
(I've given you the measurements I used for this project. Just know if you use the thicker tag board the measurements will change a bit so you'll want to modify the measurements so that they work for you.)
Or if you make it like mine you could lay it on it's side so the Blends stacked on each other which would help the sagging since the weight would be on the small edge of the Acetate Card Boxes.
Here is how I made mine:
I cut the one flap end off of each box. I measured the box and cut my board backing. (4 1/2″ x 5 3/4″)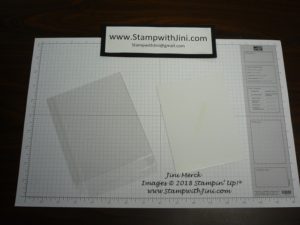 2. I repeated this for the number of boxes I wanted. I did the complete package so I had a bit of room to grow.
3. I added Tear & Tape to the tag board backing and then adhered them to each box.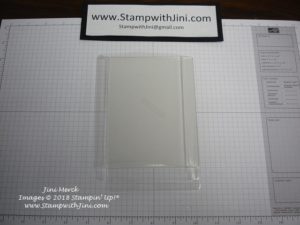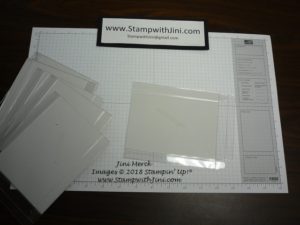 4. I then assembled the boxes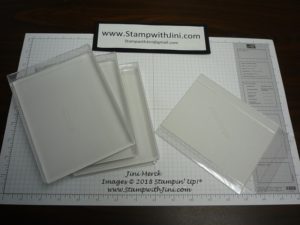 5. Added Tear and Tape to the back side of the tag board backing and stacked them together
At this point I measured the tower of boxes.
5. Cut the tag board sides, and top and added more Tear and Tape. (7″ x 5 3/4″ for sides and 7″ x 4 1/2″ for back)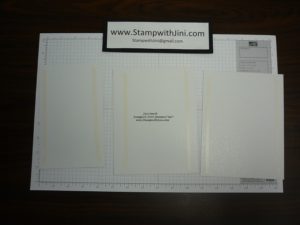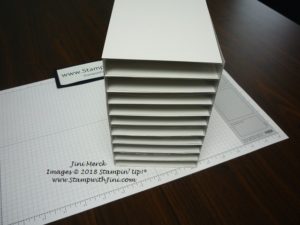 6. Cut another piece for the bottom and added it with Tear & Tape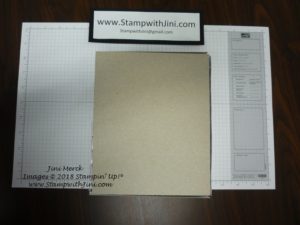 So that now my tower looked like this
7.  I took some clear packing tape and taped the seams together on all the sides. This gave me some stability and finished the edges so they were clean.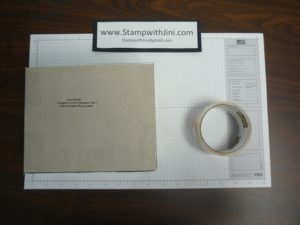 8. I started to decorate my tower. (I chose some retired Island Indigo Designer Series Paper since it matches my crafting space and all of my storage items are that color at this point.)
9. I measured the back of the box with enough to wrap around it a bit. Adhered it to the back and sides and then the bottom and top of the tower. Trimmed the corners. Added some more Tear & Tape to the side flaps. ( 12″ x 6 1/4″)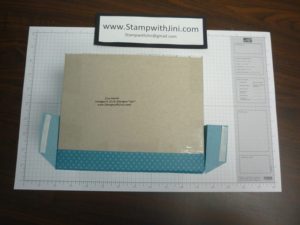 10. And adhered things down.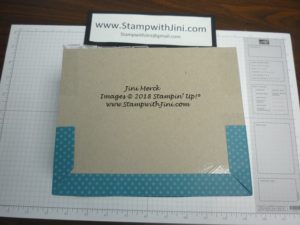 11. Now that the back was done I could move on to the sides – Because I wanted the fewest seams to show I measured two side panels that would have a bit of over hang and wrap the side and top/bottom completely. (5 3/4″ x 12″ scored 1/2″ on one end)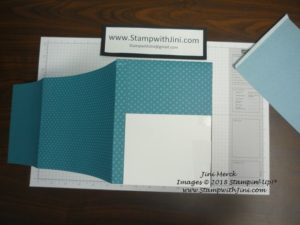 12. So I added some tear and tape to the top section and started to wrap around my tower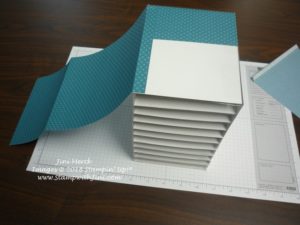 scoring with my fingers as I went.
13. Then added a second piece. Adhering again only on the small flap that would be the bottom of my box.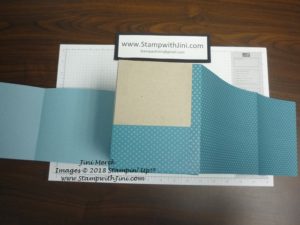 At this point I could wrap the second piece around to make sure things lined up the way I wanted them too. Making sure that the seams were flat and the edges lined up.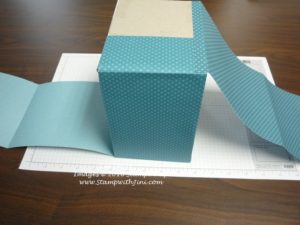 14. Now I added more Tear and Tape along the edges where I wanted it and Multipurpose Liquid Glue on the center areas. Then I carefully adhered each side down starting the the bottom (since I wanted the top seam to look the best.)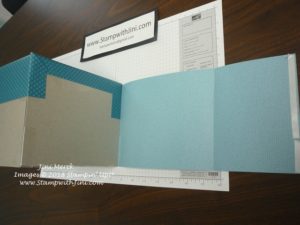 15. Then I repeated the process for the top piece – added more adhesive  and began wrapping it.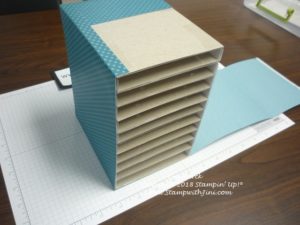 Once everything was the way I wanted I wrapped a ribbon around the tower as a handle so that I could easily lift it to move the tower.
That's it. I love the fact that this tower can be customized the way you want it – make it as tall or short as you'd like. Even make two 5 box towers and attach them to each other! The options are unlimited.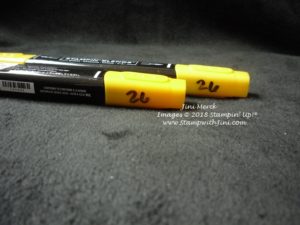 And a quick tip for you: Number your Stampin' Blends – I've put a number on each cap with my Sharpie so that I can quickly see which ones go together. So for instance my Light & Dark Mango Melody has the number 26 on them. Mine happen to be in the order I got them – but you can number them any way you would like.
Supplies: 
Accessories: Acetate Card Boxes (1446258), Tear & Tape (138995), and  Multipurpose Liquid Glue (110755)

Click here to order your Stampin' Up! Products online 24/7! (US only)
Shop at my Online Store and use Host Code W2NX46E9