I mentioned last Friday that I was getting ready for my team retreat – we gather 3 times a year for weekends of stamping, laughter, food and fun. I really look forward to these gatherings of uninterrupted crating time with my peeps. They are the best and while it is like a big slumber party we also get to get to use our Holiday PreOrder goodies to create. What could be better?
A shoe box swap of course! While it was a small gathering this time due to schedules we still had a wonderful time at our shoe box swap. It is always good fun and I love seeing what everyone is creating. Here are some of the projects.
This first card is for Halloween and uses the Apple Builder Punch (150663) and the coordinating Harvest Hello stamp set (150581).
This set is great for quick and easy card since it has a coordinating punch – and a super set for teachers and back to school projects since its got some wonderful sentiments too.
And here is a card that uses a bundle (153006) that is sure to be popular.
The Christmas Gleaming Suite is filled with wonderful products, and the Brightly Gleaming Designer Series paper (150429) includes Copper Foiling that is quite striking. We used the new Copper Delicata Metallic Ink for this project (150707/150708) and can you see the subtle shimmer of the Shimmy Crystal Effects (150892) that we used for the berries? So excited to have these new option for our crafting!
We also made this fun easel sticky note holder using the Pressed Petals Designer Series Paper (149500).
And finally here is my card that I created using the Toile Christmas Bundle (152367) from the Toile Tidings Suite of products.
I just fell in love with this Distinktive stamp set as soon as I saw it – the cardinal is always a favorite of mine. I'll be working up a tutorial for you and hope to share it in the next week or two as we get closer to the Holiday Catalog launch on September 4th.
And of course, what is a team event with out some door prizes?
Goodies from the Holiday Catalog catalog – winners got to choose their favorite accessories.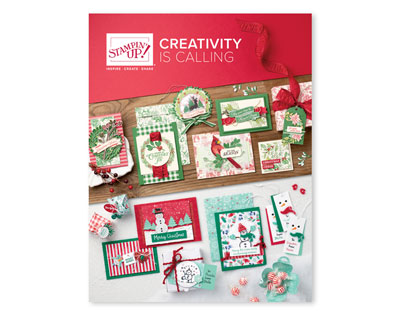 Would you like a 2019 Holiday Catalog? You can pick one up during my August Classes or contact me and I'll be happy to mail you one.
And of course how about a special event where you can pick up your copy of the catalog AND use some of these fun items too! Why not join me and play with some of the new products?
Saturday, September 14th at 1 pm – 3:30
Class Fee $10; or free with a minimum order
Click HERE to see my Calendar of Events and RSVP
If your Online order is $150 or more make sure not to use the host code so that you can take advantage of the Host Benefits yourself – No worries, I'll still send you your free gift.
Click Here to learn more about using the Hostess Code If you order Online make sure your profile information is up to date and you've allowed me to contact you (If you chose no contact in the past you'll need to call 1-800-Stamp Up to have them change your profile for you.)
The Holiday Catalog is right around the corner and I won't be able to mail you one if you have chosen no contact.
Sign up for my FREE Newsletter My Newsletters include stamping tips, tutorials, ideas and Classes!