Stampin' Up! events are a lot of fun and because of you I've been lucky enough this year to attend CenterStage. This event is a special one since it is based on title and by invitation only.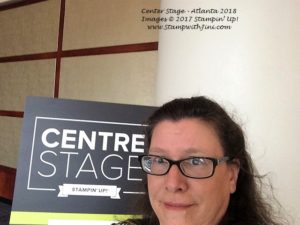 We were pampered and given special training along with this color swatch ring. What does that mean for you? It means I get to share more with you of course – And I love to share with you!
So today I've whipped up a quick video sharing the Color Revamp  that is coming in the 2018 Annual Catalog – I thought seeing them "in person" would help. Of course you'll be able to get your hands on them and play at my upcoming Catalog Kick Off (more details coming soon) and team meetings!
2018 COLOR REVAMP SNEAK PEEK VIDEO
So what do you think? Love them? The great news is we can use them all! Just because some of our favorite colors are retiring doesn't mean we have to stop using them, the Color Revamp just means more options! So you can still stock up on your favorite colors, card stock and other items during the Last Chance promotion.
Here are some more pics from CenterStage for you. Check in says it all…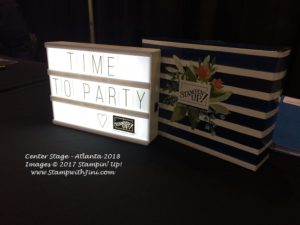 The tables were decorated with an 80's theme and strobe lights of course were flashing. I was sporting my shoulder pads!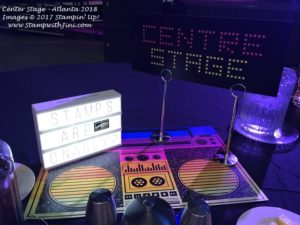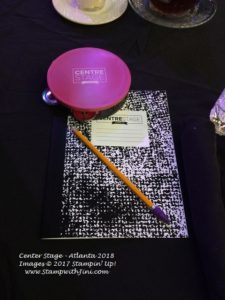 Here are some of my table mates – Susan and Sherrie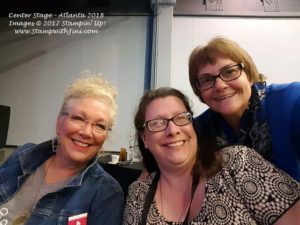 And of course the big reveal! I was so excited to see the 2018 Annual Catalog for the first time! LOL we all flipped to see if Lovely as a Tree was still in the cattie along with our personal favorites!!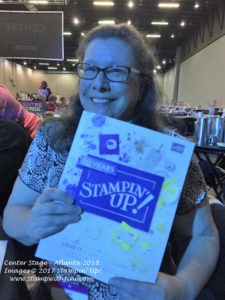 And a group shot of my extended stamping family that was there at the event.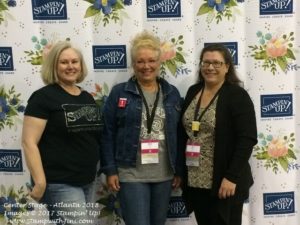 What a night – it was so much fun! Here's a quick shot of the swag we received for the night! Stampin' Up! is always so generous
What could be better? Doing what I love, Sharing what I love, and meeting wonderful folks like you!
If this sounds like fun to you AND you'd like to be first to see all the new wonderful products and get a discount, why not check out becoming a part of my Team? Click HERE to learn more.

Click here to order your Stampin' Up! Products online 24/7! (US only)
Shop at my Online Store and use Host Code 36G9DRMX
Click Here to learn more about using the Hostess Code If you order Online make sure your profile information is up to date and you've allowed me to contact you
Want a 2018 Annual Catalog – I'll be ordering these catalogs for my customers next month as they will ship in May.   If you have ordered a minimum of $50 from me in the last 6 months you'll receive a catalog from me.  If you're unsure if you've ordered $50, you can contact me or login to my online store and check your order history. (Please remember you'll want to make sure your mailing address is up to date and that I can contact you.)