The 2018 Annual Catalog launch is right around the corner and I've already shared the Color Revamp with you so I thought I'd tell you about this new kit I've put together to get you started creating with the new colors.
I love being able to reach for my Color Coach again to help me get inspiration. What's a Color Coach? It's a tool I use to help me choose the color combinations for a project. And am thrilled that Stampin' Up! has offered us a digital format for creating them. Here is the one I've put together with some additions to what they've already given us.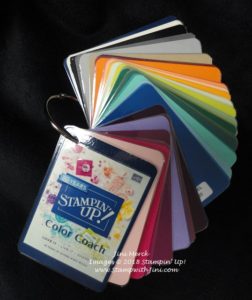 I thought maybe you would you like one too? So I've put together a kit and I've done all the work for you!
I'm now offering a limited number of the 2018 Color Coach Kits!
This kit contains everything you need already cut and prepped. All you have to do is assemble in the way that works best for you!  Here is a picture of how I did mine.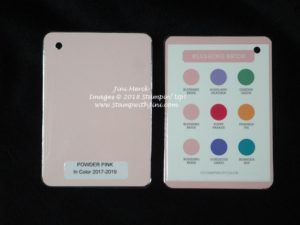 This kit can also be used to create a book if you wanted to instead. You can simply place your order with me for the Memories & More 6×8 Albums (144764/144203) and some refill pages (144205) to add to the kit.
Kit includes:
53 Card stock pieces 3″ x 4 1/4″
5 2017 In Colors
5 2018 In Colors
10 Regals
10 Subtles
10 Neutrals
10 Brights
3 Basics (card stock & label only)
 9 Color Copies showing your color combinations:
5 2017 In Colors
5 2018 In Colors
10 Regals
10 Subtles
10 Neutrals
10 Brights
Other:
2″ Ring
1 Cover laminated (with rounded corners as shown)
Labels for Color Families
Pattern piece for punching
PDF with assembly instructions
Buy yours today! It's easy, choose your option simply click on the button below.