Today is going to be short and sweet since I'm taking my computer back to Best Buys to finish things up, I'm hoping. You just don't know how much you need something until it doesn't work right. lol.
Today's card was created with one of the NEW Mini Catalog Bundles, Pick of the Patch (162200) that will be available to order starting on September 6th when the September – December Mini goes LIVE. I couldn't resist this fun little set that has these cute little pumpkin and gourd images perfect for fall and Halloween.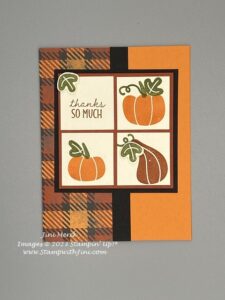 I've teamed up the set with the Them Bones Designer Series Paper (162215) that has this wonderfully warm plaid pattern done in rich warm tones for the season. I think you'll really enjoy these patterns found in the paper which you focus on the Halloween side or the more neutral side like this one.
This card seemed to be a hit during the swap on Thursday evening. I have a quick video tutorial for you and PDF showing you how I created this card.
Pick of the Patch Thank You Card Tutorial PDF
Enjoy and then stop back by next week when I'll be sharing some of the swaps that I received in #BackStage Las Vegas with you!
If your a frequent customer of mine you should have already received your New Mini Annual Catalog.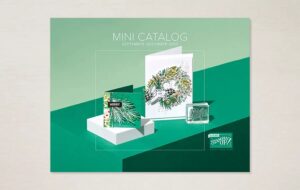 Wondering How to Get YOUR Copy?
If you haven't ordered in a while
Don't have a demonstrator
Contact me at stampwithjini@gmail.com or give me a call. I'll be happy to mail you one or if your local set one aside for pick up
And of course if you don't want to wait until September 6th to order your Holiday Catalog products, why not join my Team? And as I am sure you can guess, being the first to see this new catalog or any of our new catalogs is a very exciting AND a huge perk of being a Demonstrator – after all who wouldn't want to be first? Right! Add the fact that you'll receive a discount on all these products and you can't lose! If you feel this is a good time to join Stampin' Up! and my team, the Blue Mountain Stampers, you too can be first too!
What are the Blue Mountain Stampers?
That's the name of our stamping community. I enjoy welcoming new members to our group. We're from all over. If you're considering joining Stampin' Up!, you may have questions about how I would support you as part of my team. I do offer a variety of ways to learn, grow and to have FUN as a Blue Mountain Stamper!
Exclusive Team Resource Page – videos, PDFs and more
Exclusive Face book Group – A great way to share and connect with other team members and share
Monthly Creative Challenges
Swapping Opportunities
Team Retreats
Meetings – both local and online/virtual
Monthly Crafting Day
Monthly Lunch & Learn
Recognition & Incentives
Training available for workshops, clubs, classes and more!
Additional support and business coaching available
We have a very active group that share and answer each other's questions on our Exclusive Facebook group. If you're looking for fun, a place to grow and share with others…You'll fit right in!
Hobbyists are welcome!
Did you know? 90% of my Blue Mountain Stampers are Happy Shoppers – purchasing for themselves, (along with their family and friends.) That's right…you can just get a discount on products you love!
We welcome the crafter who's looking to be a "happy shopper" (and save money), as well as those of you that want to build a business (and make money).
Everyone is welcome after all there's room for both and everyone in between.
And there is NO Obligation when you purchase your starter kit – Join the Blue Mountain Stampers and see what it's all about!

CLICK HERE to order your Stampin' Up! products Online 24/7! (US only)
Shop at my Online Store and use Host Code 3VEKEQFC with a product order of $50 or more and receive a FREE Gift from me, my Abundant Beauty Step it Up Card Class!