Make crafting easier with the 3D Embossing Folder Plate – No messing with shims
The new 3D Embossing Folder Plate (item 149658) is now available to order! It's designed to work with our new-style 3D embossing folders (which are thinner than our old-style Dynamic folders).
How to Use the New Plate:
The new plate makes up the difference in measurement between our old-style Dynamic Folders and our new-style 3D Folders in 21 mm gap machines (similar to the machine we used to offer). The 3D Embossing Folder Plate replaces the Standard Cutting Pads in your 3D embossing folder sandwich for continued high-quality emboss results.
To create your emboss sandwich:
Use a die-cutting & embossing machine platform as a base; no matter which machine you're using, use the standard platform which comes with your machine.
Use the 3D Embossing Folder with your paper in the middle.
Then use the 3D Embossing Folder Plate on top.
Given the differences in machines and platforms, you may still have to add a shim to get your desired embossing results. (You can also spritz your paper before embossing to maximize your embossed impressions.)
Without the new 3D Embossing Folder Plate, you will need to use several shims with the Standard Cutting Pad in your 3D embossing folder sandwich, depending on the die-cutting & embossing machine you use. Most machines will need between three to five sheets of cardstock to shim. Please be careful in how you shim; start out with fewer sheets first, then add sheets to get your desired results. Stampin' Up! will not be responsible to replace products broken due to using a sandwich which is too thick for a machine.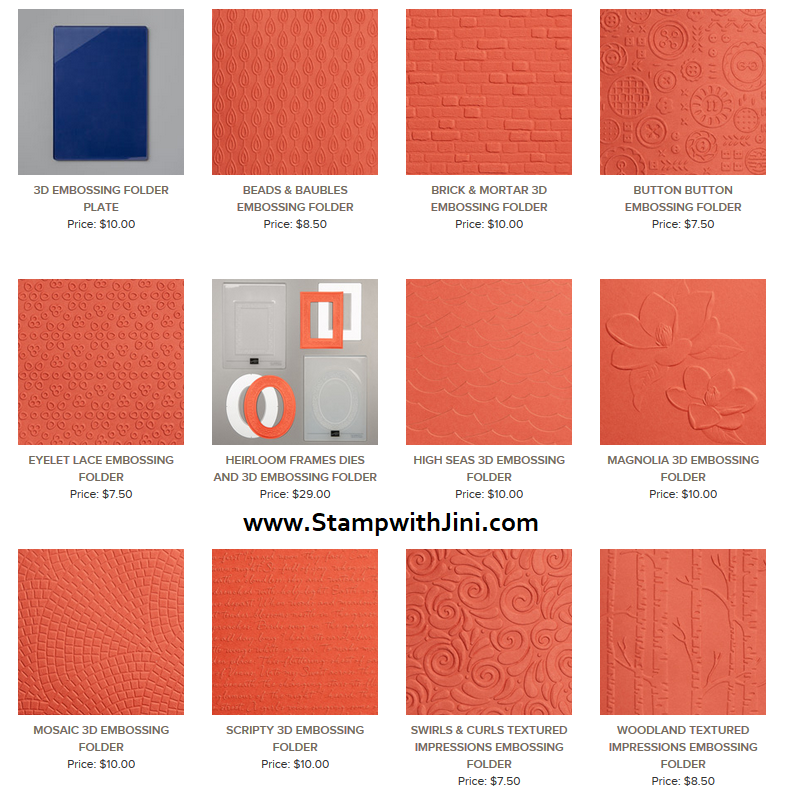 Remember that all NEW Embossing Folders are currently available to order. However, our carryover 3D embossing folders will not be available to order beginning with as we transition to our new manufacturer.
Also keep in mind that we expect to receive staggered plate shipments during June and July as we build inventory. So we may experience periods of time when it is unavailable to order if inventory is depleted; it will become available to order again when inventory is replenished.
As always, if you have any questions please let me know.
I'll be placing an order tomorrow evening at 5 pm (ET), so if you want to be included please let me know.
Stop back by tomorrow when I'll be sharing a cute little purse tutorial that I made for my Catalog Kick Off with you.

Click here to order your Stampin' Up! Products online 24/7! (US only)
Shop at my Online Store and use Host Code VNQH4QYC Place an order with me and use this host code get a FREE Gift from me – 2019 In Color Swatches!