Check out these quick and easy treats I made for friends and family using the supplies I found in my January Paper Pumpkin Kit – Cute Conversations.
The kit came with a ton of stuff – along with a great stamp set, ink and adhesives! I love the Watermelon Sequin Trim included in this kit. What fun!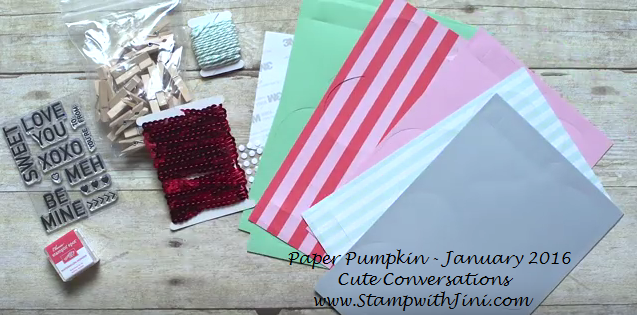 So after watching the quick little video I set to work. (You can see it below) I liked the projects as designed but the cute little pouch that was created using two of the hearts wasn't big enough for all the treats I had bought.
Here is the original little pouch I made for my daughter.
As you can see it holds these cute little tic tac mints that have little sayings printed on them – I couldn't resist!
Since I had the chocolate I stepped it up a bit with out Mini Treat Bag Thinlits Dies (137547) that are currently found on the Weekly Deals, but if you want these at a great price you'll want to order them today! Since these Weekly Deals end tonight.
What's the chocolate?
A favorite in our house and as you can see our little Mini Treat Bag made with the Thinlits Dies holds a lot since there was plenty of room to add a little something more to this chocolate. If you'd like to see all the variations of the little treat bags I made you can stop by my face book page HERE.
And my final project is this cute little candy holder I made as a little goodie for my Technique Class yesterday.
It holds, a piece of Dove chocolate – Want to know how I made these? Well it was easy with my Simply Scored Scoring Tool (122334).  I scored down from the top of the heart 1 1/2″ and then again at the 3″ mark. And scored again 1″ in on each side of the heart.Next I stamped the sentiment I wanted in the space created by the fold lines. Folded the sides in and added a touch of Snail Adhesive to hold the candy and then folded the Folded the top (rounded part) of the heart over candy and adhered the point with a Glue Dot (103683)! Decorated it as desired and voila! A sweet little treat!
Want to see the kit in action? Here is the video –
Fun right? If you'd like to join in the Paper Pumpkin fun I've got great news for you it's on SALE! That's right now thru March 31st when you purchase a Prepaid Paper Pumpkin subscription you'll not only get $5 you'll also receive a FREE Sale-a-bration item of your choice!
You can check out all the details HERE.
These make great gifts too! So why not ask a friend to join in the fun with you. Gather together when your kit arrives and work on them together! Everything comes in the kit you need and you can watch the video to inspire you – make the kit as it is or add some extra items you may already have.
And when you choose me as your Demonstrator you'll receive Jini's Paper Pumpkin Perks!
It's my way of saying thank you for choosing me as your demonstrator!
So why not join today? And remember in order to start receiving your kit in February you'll want to purchase your Prepaid Subscription and create your Paper Pumpkin account before the end of the day on the 10th!
If you have any questions please let me know!
JUST 24 HOURS Till My 6 Weeks of Sale-a-bration Newsletter!!!
Starting Tuesday February 9th – Those of you who are on my Newsletter mailing list will receive my 6 Weeks of Sale-a-bration Newsletter containing special projects using the FREE Sale-a-bration items found in the brochure.
These are exclusive projects and won't be featured on my blog – So why not join in the fun now? You can find the sign up box for my Newsletter in the upper right hand side of my blog just below the 6 Weeks of Sale-a-bration design.
Then just make sure you confirm your request when you receive your email. Not only will you receive the 6 Week of Sale-a-bration Newsletter but you'll receive a FREE pinwheel tutorial along with newsletters containing helpful tips and information about my events.
Yep, it's that easy! Don't delay since only those on my Newsletter list receive my 6 Weeks of Sale-a-bration Newsletters and you won't want to miss one week!
Click here to order your Stampin' Up! Products online 24/7! (US only)
Use Hostess code GRHDQ3A9
Click Here to learn more about using the Hostess Code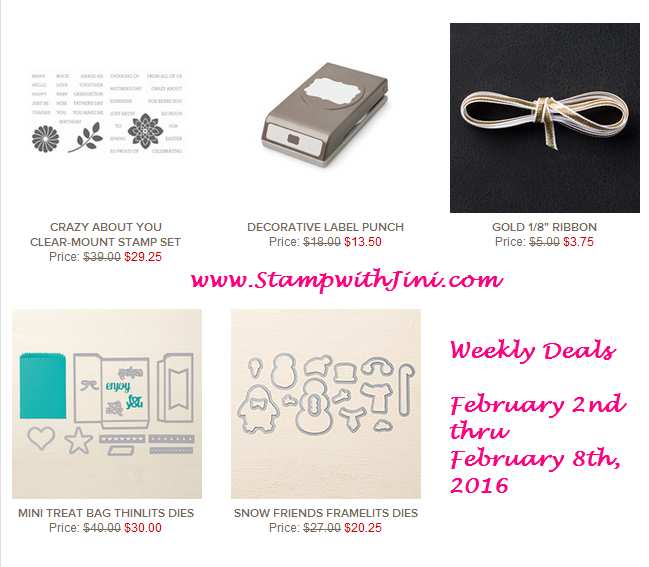 Weekly Deals (Special ends Monday, February 8, 2016 at 11:50 p.m. (MT)