Do love fun colorful cards? If so you will enjoy today's cards that pack a "punch". LOL. Get it fruit punch? Bad pun I know but I just couldn't resist.
The Cute Fruit stamp set (153301) is one that is part of our Cute Fruit Cards & Tag Bundle (154420) of products, making it quick and easy way to create.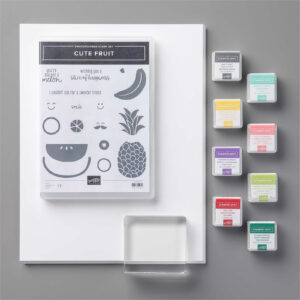 While this bundle makes it easy to order with the Bundle number, you can order the items individually if you prefer. Want to see some fun cards made with this set? Such a great tropical feel to it right? Check out these fun cards using this set.
Pineapples – done in shades of Granny Apple Green and Bumblebee. This first card reminds me of my husband who loves pineapple, but never knows when they are ripe enough to cut.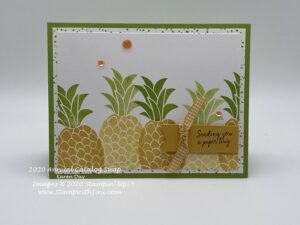 I'd love to take a tour of a pineapple farm (are they called farms?) when in Maui and he's not overly excited about it. I told him when else can you see them in the fields like that? And after his comment of not knowing when they are ripe, it is a good way to learn how to tell if they are ready to cut. That gave him pause! LOL I may just get to see take the tour now! (Personally I think that is just his excuse not to have to cut it up since he wants me to do it for him, but it sounds good to me since I'm not sure myself.)
And how about this next card using scraps. Fun, and colorful – what a great way to use up your strips of card stock. We've all got them in our craft rooms.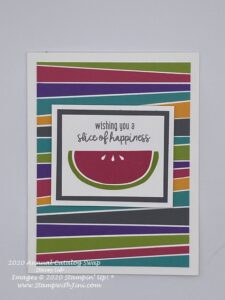 Yes, I'll admit it I've got them too. And this simple technique is a great way to use them up! Think of all the possibilities.
And finally this fun little card done in Coastal Cabana, Early Espresso, Granny Apple Green and Bumblebee. How can you not smile when you see that little face?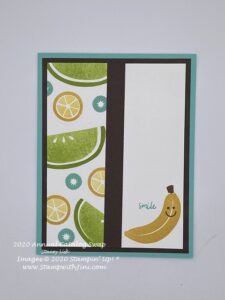 I'm sad to say that this stamp set will be retiring and no longer available after May 3rd, so if you like it as much as I do and are ready to create, why not order yours today? Or wouldn't this make a great gift for someone special?

Click here to order your Stampin' Up! Products online 24/7! (US only)
Shop at my Online Store and use Host Code 9TYDDCU7
Click Here to learn more about using the Hostess Code If you order Online make sure your profile information is up to date and you've allowed me to send you your free gift, a FREE Class using the Butterfly Brilliance Stamp Set that's available now as a sneak peek into the 2021 Annual Catalog.
If your Online order is $150 or more make sure not to use the host code so that you can take advantage of the Host Benefits yourself – No worries, I'll still send you your free gift. It's my way of saying thank you for choosing me as your demonstrator!
Have you Saved Your Spot for my April Card Class?