I love to create homemade recipes for pampering myself at home, and last fall I found this fun Lavender Tub Tea that sooths the skin and creates a luxurious bath experience to go along with my sugar scrubs I've shared with you in the past. So I knew I wanted to whip some up to share with my Team for their day of pampering at my Peak Princess event. Here is what I came up with.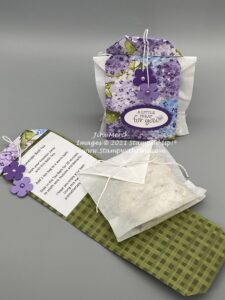 A quick and simple packaging idea to hold this special little tub tea bag. And while I was thinking lilacs instead of lavender when I designed it, don't ask me why, I think the purples from the Hydrangea Hill Designer Series Paper goes lovely with the tea bags any how. And you can get a ton of holders out of just one package of paper, making it perfect for sharing with friends.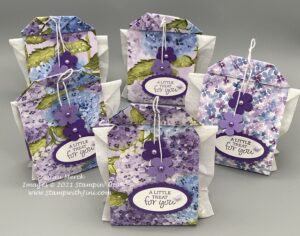 I've created a quick video for you so you can see how I made them.
Oval Occasions Bath Tea Holder Video Tutorial
And great news the tub tea is soooo easy to make with ingredients you may even have around the house. This herbal tea is packed with herbs, salts and other skin soothing treatments creating a luxurious bath when steeped. It's a perfect way to warm up and relax during the cold winter months. When you're done simply remove the tea bag – no messy clean up!
Lavender Oatmeal Tub Tea Recipe
2 cups Epson Salts
2 heaping Tablespoons Dried Lavender
15-20 drops Lavender Essential Oil
1 cup oatmeal
1 cup powdered milk
9 Extra Large (Size 4) tea filters
Grind the oatmeal in a food processor or blender to get a coarse powder.
Mix the Epson salts, dried lavender and essential oils in a large bowl and stir. Then add in the powdered milk and ground oatmeal. Mix well. Fill your tea bags with about 1/3-1/2 cup of mixture and seal as desired.
I did find that you want to make sure to place this little gift into a cello bag (102210) or Clear Envelope (102619) – It helps fragrance from the dried Lavender and Essential Oil last longer it also helps keep things cleaner too.
And of course it never hurts to have a printable PDF tutorial. This one not only includes a supply list and my step by step instructions. It also has the recipe and labels all in one handy document making it easy to reference again and again.
Oval Occasions Bath Tea Holder Tutorial & Recipe PDF
Wondering where I got the tea bags and lavender? I've added the links for the items I used for my gifts on the pdf for you in case you're wondering where to find them.
Enjoy!
Supplies:
Stamp Set: Oval Occasions (154477)
Inks: Gorgeous Grape Classic Ink (147099/147164)
Paper: Hydrangea Hill Designer Series Paper (154570), Gorgeous Grape (146987), Highland Heather (146986), and Basic White Card stock (159276)
Accessories: Double Oval Punch (154242) and Small Bloom Punch (152316), Snail Mail Twine (154579), Butterfly Gems (152481), Pastel Pearls (154571)

Click here to order your Stampin' Up! Products online 24/7! (US only)
Shop at my Online Store and use Host Code YUKYBZBG
Click Here to learn more about using the Hostess Code