My internet has been down for a couple of days since Windstream decided to flip a switch to upgrade me, but didn't tell me LOL! Technology – got to love it right? Any how today's post is going to be quick since I intended to share this with you on Friday and couldn't.
I received my OnStage Product Purchase Premiere Preorder goodies and wanted to give you a sneak peek of what is coming! So I made this video to share-
I think you'll love the new colors AND exciting news – we will have a Simply Shammy!!! We got to use it at OnStage and I loved it – it's a reusable cleaning mat that makes cleaning our stamps effortless since it can get in all those nooks and crannies AND it durable since it is thick – no more lint or chemicals since you just add water. Good news – you'll be able to store it in our stamp cases so it can go with you or sit nicely in your stamping space. Whoo hoo! No more baby wipes – can't wait until June 1st to get one. Sorry I didn't think to snap a really good pic so you could see it. But I did spy one on our Make n Take table LOL!
Want to see some more pics of OnStage – Atlanta?  Here are some more of our time Prize Patrol is always great fun – and Stampin' Up! is always generous!
I can't believe everything I received at OnStage I couldn't fit it all in my bag!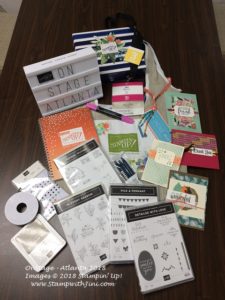 We get to do some stamping –
And even got a sweet treat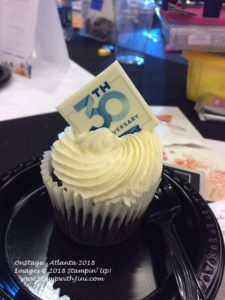 Love the time together getting to meet new stamping friends and team time too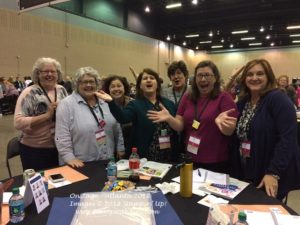 Want to learn more about becoming a Demonstrator? Click HERE to learn more about my team or contact me today.
Stop back by – I'll be sharing some video tutorials of 3d items I made for this event with you and some of the great swaps I've received.

Click here to order your Stampin' Up! Products online 24/7! (US only)
Shop at my Online Store and use Host Code JFZY4KKN
Click Here to learn more about using the Hostess Code If you order Online make sure your profile information is up to date and you've allowed me to contact you
Want a 2018 Annual Catalog – I'll be ordering these catalogs for my customers next month as they will ship in May.   If you have ordered a minimum of $50 from me in the last 6 months you'll receive a catalog from me.  If you're unsure if you've ordered $50, you can contact me or login to my online store and check your order history. (Please remember you'll want to make sure your mailing address is up to date and that I can contact you.)