Yesterday was my birthday and it was the BIG 50! Doesn't bother me a whole lot since I'm the youngest in the family – my husband and his brothers are still older than me which I'm always happy to point out to them! So it is hard for them to give me too hard a time since they've been there and done that already. LOL.
So today I thought I would share with you the card that my husband made for me. Yes, he stamps, and I figured he was up to something when he snuck down to my classroom the other night. Of course, the fact he didn't clean up after himself was a clue too so I was curious to see the card he made based on what scraps were left on the table.
Want to see what he came up with? He had a hard time finding things like a stamp set with numbers, although I'm not sure why since Memorable Moments was sitting on the shelf clearly marked. (But then you know how guys are – they can't find their socks either. LOL)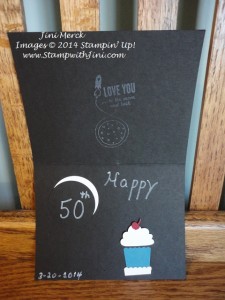 Ok. Now that you've seen the card – let me tell you how he explained it to me, he had a plan in mind. You're going to love this – Larry is a hoot!
1. He chose black to go with the over the hill theme of 50.
2. He chose the Love You to the Moon image, because after all he still loves me even though I'm now over the hill.
3. He chose the cup cake punch, for the birthday cake of course. (No calories included.)
4. He chose the circle punch and made a moon to go with the Love You to the Moon image.
5. And finally he chose the White Stampin' Chalk Marker to write with since he couldn't find the stamp set he wanted.
Here is the best part – get ready for it…. Why? "It's not a full moon" he tells me and then goes on to explain that "The full moon would be for when you were young, you've only got a little life left – that is why the sliver is there."
I howled with laughter and Kaitlin who has been listening to this explanation with me says to him, "I guess that means your sliver is even smaller dad since you are older than mom, huh."
After the explanation we went out to a nice dinner at our local Mexican restaurant, El Patron, (so I wouldn't have to cook). Of course, they sang and brought the dessert, which I dodged and only ended up with a bit of whip cream on my nose. Kaitlin I think was rather disappointed  since she was really looking forward to that part of the birthday dinner.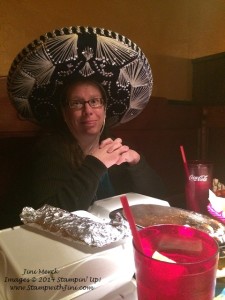 It was a fun week and since today ends our daughter Kaitlin's Spring Break from College with us, I thought I would share some photos with you from our week together.
We hiked on one of our local trails, Panther Creek, and enjoyed the first taste of spring along with the warmer temperatures last Saturday. This first picture is the three of us taking a break and enjoying the scenery at the half way point of our hike.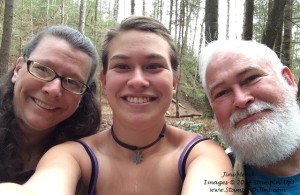 Here is the view we were enjoying.  It's a beautiful trail if you are looking for a enjoyable day in the mountains.
And this last photo is one I took in our yard. The grass is covered with these lovely little wild violets. I always enjoy the spots of color in the yard – until Johnathan decides he's just got to cut the grass and then they are gone!
Such delicate little flowers and violets have always been one of my favorites.
Supplies:
Stamp Set: Love You to the Moon (133140/133143)
Inks: Whisper White Craft Stampin' Ink Pad (101731)
Paper: Basic Black (121045), Island Indigo (122923), Cherry Cobbler (119685), and Whisper White Card stock (100730)
Accessories: White Stampin' Chalk Marker (132133),  Cupcake Builder Punch (121807) and 1 3/4″ Circle Punch (119850)
Click here to order your Stampin' Up! Products online 24/7! (US only)
Hostess code 6JDYYVZ4