Back in March I challenged you to participate in my Birthday Card Contest. It was simple all you had to do was mail me a card that you made using Stampin' Up! products. Today I wanted to share with you some of the lovely cards I received and of course the winner!
First the cards –
Do you see our current Starburst Framelits (132967) and Fresh Prints Designer Series Paper Stack from the Occasions Catalog that Randy used to make this card?  And do you remember the name of the image used? If you guess, Punch Bunch from Sale-a-bration in 2011 give yourself a pat on the back!
Here is a card from Mary that uses our retired 5 Petal Flower Punch along with the current retiring Perfectly Penned stamp set (128703/122892).
And how about these birthday cards sent to me by some of my team members aren't they lovely?
I love the Swallowtail stamp (131943/129216) and the way Janie used our retiring Scallop Trim Border Punch (118402).
Or how about JoAnn's Vivid Vases (133818) card – don't you love the colors? I hope you can see the texture added by the paper piecing on this card.
Here is the inside – fun right?
And since I'm a coffee person Cindy made this great monochromatic card using the retired Morning Cup stamp set for me, combining the old with the new. Smoky Slate was one of my favorite colors introduced in the 2013 Catalog.
And now the lucky winner – drum roll please!  Randy will be receiving a cute birthday stamp set from my stash! Congratulation Randy, I'll be sending you a email with details on how to get your free set.
2014 Catalog Premiere
Stampin' Up! makes being a demonstrator sooo much fun and they treated us to an extra special event this year – a 2014 Catalog Premiere on Monday night. I wanted to share this with you Tuesday, but with all the excitement and lack of sleep I'm just getting back on track.
The premiere was held in theaters across the country and was a fun, high energy event with lots of fellowship and laughter. I thought I'd share some pictures for Monday with you.
Here is a group of us at the Cheese Factory for dinner before the premiere. The table was buzzing with conversation and excitement. It's always a small world when you're a demonstrator – Our table included our fellow stamping sisters from SINKS and the Stamp Divas teams along with my team, the Blue Mountain Stampers.
That's me in the back on the left and here is my part of my Team at the theater while we waiting for the event to begin.
The excitement continued as the lights were dimmed and Shelly greeted us and teased us with our first glimpse of the Catalog Cover!
The night continued with the ever hilarious Bonnie Thurber, who was showing off her bling and getting side tracked with all the new wedding products! Hmm.. wonder why? (I'll post more photos and details on my Facebook page today.)
The event continued with a star studded cast of Stampin' Up! "celebrities". You can tell these people love what they do!
Brian Pilling looked dapper in his black tux as he treated first Bonnie Thurber, then Shannon West, Carrie Cudney, and finally Donna Griffith with a special token he made for them with some of our new products along with their favorite snacks.
Prize Patrol is always one of the fun things that are part of Stampin' Up! events and the Catalog Premiere was no different. I was soooo excited as my wrist band color was called and I got to take home a great new stamp set from the 2014-2015 Annual Catalog! I'd never won a Prize Patrol before! Stop by my Facebook page and to see what I won.
Sound like fun? If you'd like to join in the fun of being a demonstrator why not jcontact me today and join my team? I'd love to tell you all about the benefits of being part of my team. If you'd like more information click HERE to learn more about the Blue Mountain Stampers.
I can't wait for you to see all the great new stamp sets, In Colors, and accessories! I don't think you're going to be disappointed and the layout is wonderful and full of inspiration. My catalog is already dog eared LOL!
Wondering how you'll get your new 2014 Annual Catalog? Well it's easy:
If you're a frequent customer of mine – You'll be the first to get one (sometime in May)
Are you a Club Member? Then you'll also be one of the first to get one free
Haven't ordered from me in a while or are you new? Place an order with me during May of $50 or more in product. (If you order online make sure your profile information is up to date.)
And thanks for shopping with me and choosing me as your demonstrator!
Project Life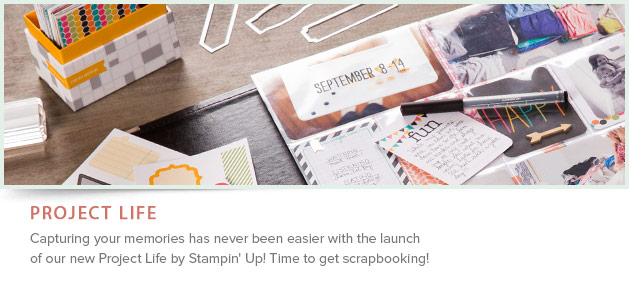 You can order your Project Life products today! Click HERE to see them all.
Click here to order your Stampin' Up! Products online 24/7! (US only)
Hostess code JZT4F3FZ
RETIREMENT ACCESSORY LIST (pdf)
Weekly Deals (Special ends Monday, May 5th 2014 at 11:50 p.m. (MT)