Check out these fun Weekly Deals that are starting today.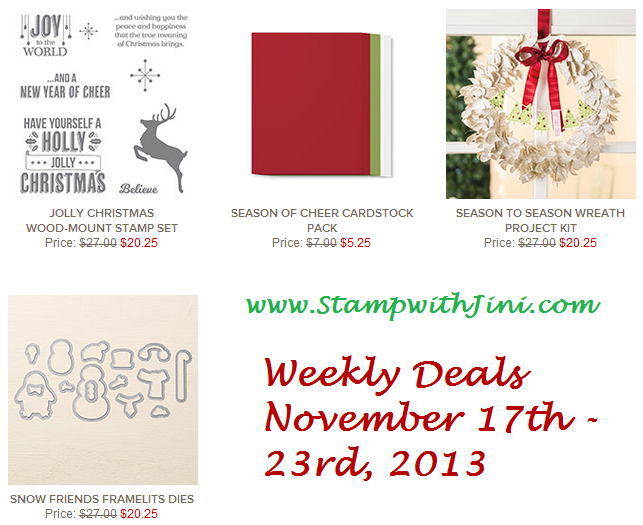 I'll be sending in an order on Thursday – If you'd like to be included just let me know.
And now for some swaps! Many of these items are included in our Holiday Catalog Retirement list.
And check out our little Into the Woods (139636) wooden elements on the inside – cute, huh?
And I'm here is the more projects made with Into The Woods Suite items.
Our cute little Square Pillow Box Thinlit Dies (139657) done in Into the Woods Designer Series Paper and is accented with the Acorny Thank You Bundle and Leaflit Framelit Dies.
Along with this fun card – recognize the sentiment? Its from the Tin of Cards stamp set (138946).
I know this is a quick post but I'm packing up my car for tonight's event – Why not stop by and see me?
I'll be doing my Caring with Cards at the Clarkesville Library between 2 – 3 pm today and then the Christmas Kick-Off Party tonight!!! (Sorry I don't have a new flyer just ignore the big tomorrow LOL! It's TONIGHT!!!)
Click here to order your Stampin' Up! Products online 24/7! (US only)
Hostess code VWW6KJ9F
Click Here to learn more about using the Hostess Code
Weekly Deals (Special ends Monday, November 23, 2015 at 11:50 p.m. (MT)
Sign up for my FREE Newsletters to receive stamping tips, ideas, and updates on what is happening with Stamp with Jini. You'll receive a FREE Pinwheel Tutorial when you do