Are you a cat lover? If so then these fun little images and sentiments found in the Clever Cats stamp set (156490) will make you smile.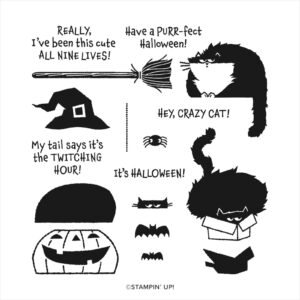 See what I mean? I especially love the one jammed into a box! How relatable is that? When Larry and I were first married we had 2 cats Tiger and Boots. Tiger was a cuddler who loved to get into a box I kept on top of my frig along with my bread on the counter, so I resorted to putting it in a Tupperware container for bread. While Tiger is no longer with us I still have the bread container with all of it's teeth marks from where he would pry the lid off while I was at work. LOL And the other cat looks just like Boots, (a black and white tuxedo) the expression is perfect – This image reminds me of him running his paws down our metal blinds in the morning on the weekends when we tried to sleep in a little. Boots wouldn't have any of that, he wanted his breakfast. At over 15 pounds Boots always made his presence and desires known. How about you have a cat story of your own?
If you love cats or know someone who does why not whip up a little card for them? This set is great for Halloween, Christmas and well, just anytime. Check out these fun cards made with this set.
These first 2 cards are done for Halloween. The Pattern Party Designer Series Paper (155426) adds some fun color with it's polka dots and the Birch Background stamp (149256) has been used on the Highland Heather layer to create some interest and texture.
And how about this card using the Stacked Stone Background stamp (152556) to create the wall that is topped with the fun Black Glitter Paper (153518)?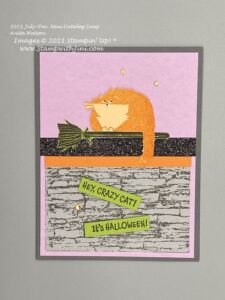 And here is just a fun card for those cat lovers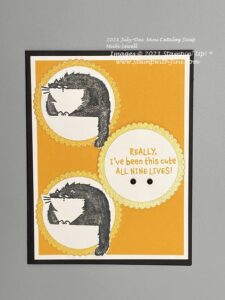 The Layering Circle Dies (151770) have been used to cut scallop circles from the Ombre Specialty Paper (155784) found in the Annual Catalog to had some fun glimmer and quirky sentiment. And this last card is for the Holiday Season with it's Sweet Stocking Designer Series Paper (156281) filled with little light bulbs for the tree. How many of us have watched our cat hiding in the tree only to jump out and pull all the decorations with the lights?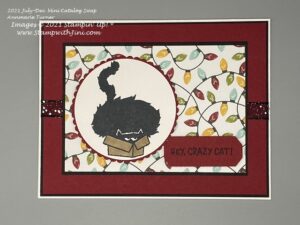 I know I have, I can tell you it didn't take me long to replace those glass ornaments on our tree that Tiger would love to bat around when he got bored in the night while we slept!
Ahh, our 4 legged family. They hold a special place in our hearts.
If you love cats, and this set why not stop by my online store and check it out? You'll find this and other wonderful pet sets for crafting too!

Click here to order your Stampin' Up! Products online 24/7! (US only)
Shop at my Online Store and use Host Code HCM37JXW and receive a FREE Gift, a Peaceful Deer Card Class
Click Here to learn more about using the Hostess Code If you order Online make sure your profile information is up to date and you've allowed me to send you your free gift.
If your Online order is $150 or more make sure not to use the host code so that you can take advantage of the Host Benefits yourself – No worries, I'll still send you your free gift. It's my way of saying thank you for choosing me as your demonstrator!