When I returned from Las Vegas I told you I'd share some of the swaps I received while I was at the event. It has taken me a bit to get back to full steam with my computer but I think I've finally have gotten back on track. While I have a love hate relationship with technology I just don't think about how much I use my laptop and something like this reminds my just how much easier technology can make life. How about you, feel the same way?
On to the fun stuff, my swaps. I just love creating and sharing at these events. Everyone has such a different style and ideas while using the same products. It's always fun to see what folks are doing and I find I always learn something that I can share with you! So I'm going to start with this fun fold card.
This card uses the Les Shoppes Designer Serie Paper (161322) and a bit of fussy cutting.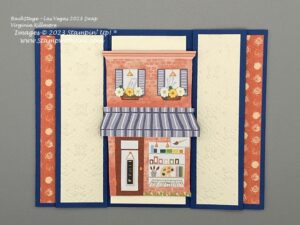 The cute little Loose Daisy Embellishments (160555) were used in the flower boxes to add some dimension and texture and the NEW Distressed Tile 3D Embossing Folder (162189) add some to the Very Vanilla panels next to the house. The full little flap in the center folds up to reveal your inside panel.
Here is another card that uses Designer Series Paper as it's focus, this time the Zoo Crew Designer Series Paper (161304) with it's fun little animals and black and white patterns.
A bit of our Black & White Gingham Ribbon (156485) was used to add some texture. Fun right? And how about this lovely colorful card done in wedges using the Hello Irresistible 6×6 Designer Series Paper (161139) and the Very Best Occasions Stamp set (159871)?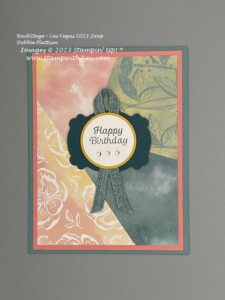 The Lasting Label Punch (158651) and Lost Lagoon 1/4″ Bordered Ribbon (161171) add some texture and color behind the sentiment. And next are a couple of cards that use the fun Tree Rings Hybrid Embossing Folder & Dies (159888) for two very different looks. This first card is soft and sweet.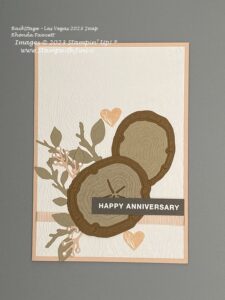 the sentiment from the coordinating stamp set, Ringed with Nature was heat embossed in White and texture was added with the Ribbon Duo Combo Pack (161318) and Timber 3d Embossing Folder (156406). And this next card is bold with it's Stampin' Blends colored image from the Sweet & Precious Stamp set (161588) and Fresh as a Daisy Designer Series Paper (161289).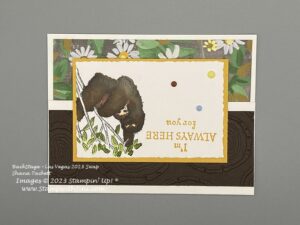 And for my final swap today this fun little card using the Crafting for You Bundle (161226) and our Take Your Pick Tool (144107/150006).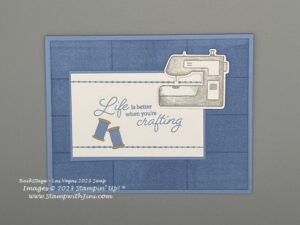 Did you know that our Tool has a NEW Crafters Tip option? The Take Your Pick Crafters Tip (144107) option gives you 4 more fun options to choose from when using the tool. This card use the rotary perforating tip to create the grid background for the card and also the dotted line on the sentiment panel. How fun is that?
I always love the swap boards at our events too – tons of sharing going on. I'll continue sharing more swaps with you over the coming weeks.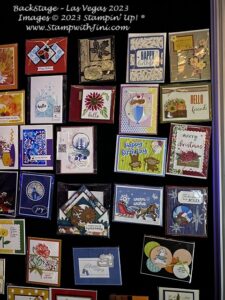 Speaking of BackStage I thought I'd share some pictures of the event too. I've never been to Las Vegas and was fascinated by the view out my window and the landscape below. And of course the airport itself was so colorful with the slot machines all around.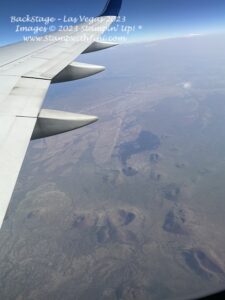 My husband Larry has thought about going with me but decided not due to his surgery earlier this summer. So I took full advantage of walking around and checking out everything at the Red Rock Resort including some time at the lovely pools! For some reason he didn't think I was working when I sent him this picture. LOL!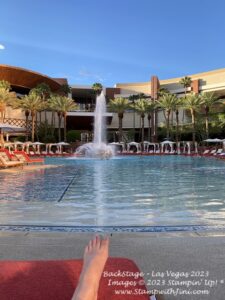 And of course once the festivities began the evening before the conference it was non stop. We checked in on Thursday and got a lovely swag bag that included our agenda and more along with a photo of me, at our fun photo booth.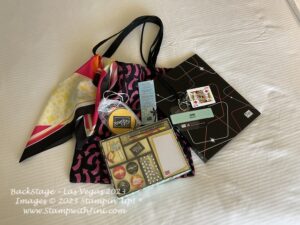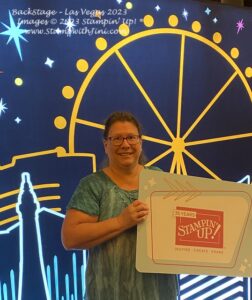 Our welcome Sweets & Swaps event was by the pool that night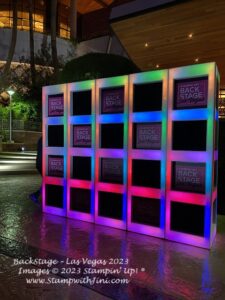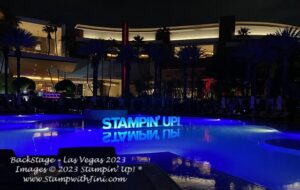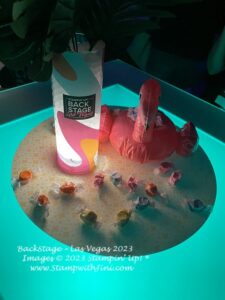 And come to find out the fun neon sign we saw as we walked in contains a sweet little surprise for us too. We handed in our ticket and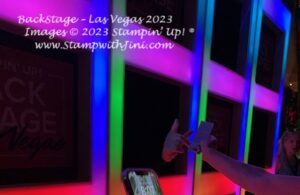 we received a pair of sunglasses with a fun little case as gift that was perfect for around the pool or to wear around town.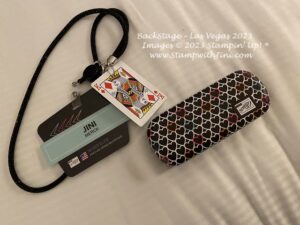 During breakfast one morning I sat with a lovely group of ladies who had made some of the cutest gifts. Check out this adorable Sticky Note Pad holder – perfect for the event. Cute, right?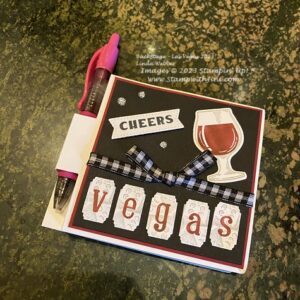 When the conference started Thursday we had some wonderful training with breakout sessions and speakers.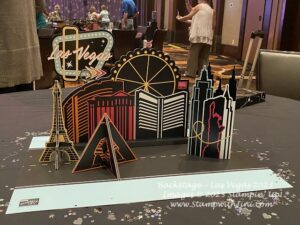 As we wrapped up the conference Saturday afternoon, Stampin' Up! surprised us with a live performance to announce the last evenings experience!
A bus trip to the The Mirage for the Beatles show!!!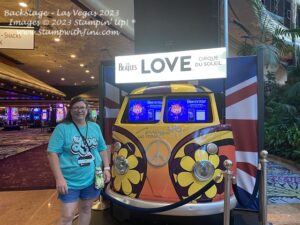 I've never seen Cirque De Soleil before and what a experience for the senses! It was so cool watching the wave of #BackStage Coastal Cabana LOVE t-shirts walking through The Mirage and filling the seats.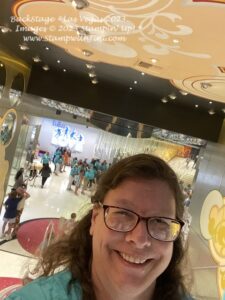 And the reactions were pretty funny from the folks when we got back to the Red Rock resort as to what they thought the group was all about.
Stop back by tomorrow when I'll be sharing some more swaps with you.
And of course if you have any questions or help with the Online Store please let me know. I'm here to help.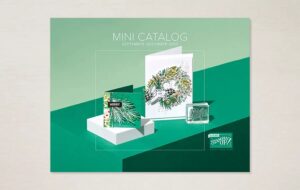 Remember Suites may be on back order but you can order things individually too since it might be just one item that is not available.

CLICK HERE to order your Stampin' Up! products Online 24/7! (US only)
Shop at my Online Store and use Host Code VPZ67VCD with a product order of $50 or more and receive a FREE Gift from me, my Abundant Beauty Step It Up Card Class!
Sign up today and Join me for my September Card Class