This tree was calling me when I saw it – after all there is nothing like a evergreen this time of year. And I have some wonderful memories of planting hundreds of blue spruce saplings with my father as a small child on our piece of property in Wisconsin. I was a very proud 3 year old helping him!  He'd drop the tree in the hold, pour the water and put the dirt back and it was my job to stomp that dirt down tightly. He was putting them in so we could have a tree farm, unfortunately that never came to pass. The last time I saw my childhood home there is a woods where that once empty field  – and seemed the trees touched the sky!
So this card was inspired by that time with my father and I really like the way it turned out.
What do you think? Want to know how I created the soft forest of trees for the front of this card?
I took a couple of pictures for you to show you how I did it. I used a simple masking technique for this project.
Take some large post it notes and create a frame on the card front. I used my grid paper to make sure the lines were straight. I simply laid my card stock down on the grid paper, used a ruler at the measurement  I wanted and then stuck the sticky note down. The grid lines make lining things up easy and keeps everything straight for you – LOVE my grid paper!
2. I used my Stampin' Sponge and Soft Sky Classic Ink to lightly sponged the area inside the sticky notes on the card front.
3. Next I stamped the tree image using the Soft Sky Classic Ink. To create the softer trees in the background I didn't reink in between, but instead stamped multiple times before reinking.
4. I then removed my sticky notes and stamped the tree in Wild Wasabi and Garden Green Classic Ink.
5. Added the trunk and the sentiment and then put it onto the card front.
Voila! A wintry woods.
Here is a printable tutorial for you!
Season Like Christmas Tutorial (printable PDF)
The Season Like Christmas stamp set is part of the Retirement List for the Holiday Catalog. So if you love this set too and would like one you'll want to get yours soon. They are guaranteed to order through today and then after today they are while supplies last!
And last but not least here are some more wonderful cards that I've been wanting to share with you.
All these wonderful sets can be found in our Holiday Catalog that ends on January 2nd.
Supplies:
Stamp Set: Season Like Christmas (144860)
Inks: Soft Sky (131181), Wild Wasabi (126959), Garden Green (126973), Chocolate Chip (126979), and Real Red Classic Ink (126949)
Paper: Whisper White Thick Card stock (144237), Real Red (102482), Whisper White Card stock (100730)
Accessories: Stampin' Sponges (141337) and Grid Paper (130148)

Click here to order your Stampin' Up! Products online 24/7! (US only)
Shop at my Online Store in December and use Hostess Code ANN4HBHX place a $25 order and receive a FREE gift from me!
Click Here to learn more about using the Hostess Code If you order Online make sure your profile information is up to date and you've allowed me to contact you so I can mail you your FREE gift!
Stamparatus Reservation – December 5th – 30th
Reserve yours today – pay for it when it arrives in spring of 2018!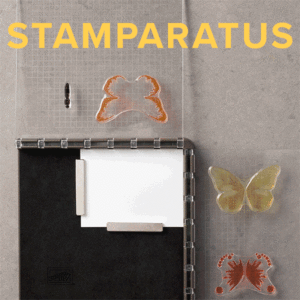 Want a 2018 Occasions Catalog?
Are you a frequent customer of mine? You'll be the first to get one!  If you live locally you can pick up one at my December events. Not local or live out of State? No worries – I'll be mailing one to you soon.
Haven't ordered from me in a while or are new? Place an order with me during the month of December. (Make sure your Online Profile information is up to date so I can get it to you!)