Dies, Dies & More Dies. Oh my – And they are on Sale through the 18th! Whoo hoo! During Our Seasonal Sale you can get any of the Annual Catalog Dies on Sale for 20% off and there are some great die sets to choose from.
So today I thought I'd share some of my favorite versatile Die sets from the Annual Catalog. While these dies are great with the coordinating stamp set they are also great all by them selves with the set of your choice. I'll start with a few of our free standing die sets, the first of which is the Tailored Made Tags (155563).
This die set is a great basic to use with all kind of projects – check out this fun card using the Expressions in Ink Designer Series Paper (155464) and the Artistically Inked stamp set (154542)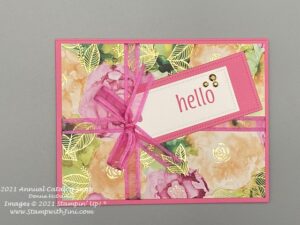 Another of my favorites is the Tasteful Labels Dies (152886). This set of dies has some great basic shapes that can be used in tons of ways! Check out this next card using this set of dies.
This card uses the Nature's Beauty stamp set (150528) stamped on the label and the Beauty of the Earth Designer Series Paper (155841) to highlight this wonderful sketched deer image.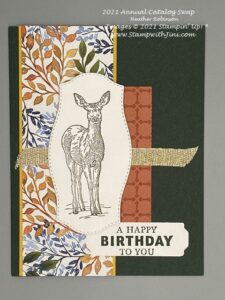 And speaking of dies I reach for over and over again, how about the Stitched So Sweetly Dies (151690) that were used on this next card.
While this next card uses the beautiful pansy print from the Pansy Petals Designer Series Paper (155807).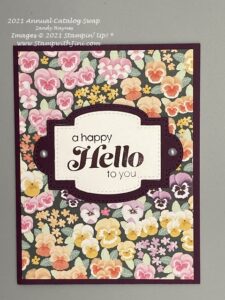 The big bold sentiment is perfect for this card and comes from the Sunny Sentiments stamp set (155034) found on page 38 of the Annual Catalog. And another wonderful die set that has great basic shapes is the Scalloped Contour Dies (155560) this was one of my first choices from the Annual Catalog this year since the layering scallop rectangles are sooo versatile and work so well with lots of other sets.
While the Color & Contour stamp set that coordinates with these dies is great it works wonderfully with all kinds of stamp sets. Check out these next 2 cards.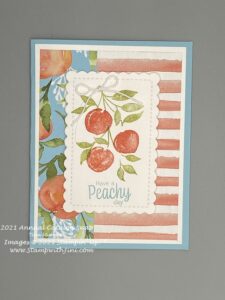 This first card uses the Sweet as a Peace stamp set (155050) and for a totally different look that uses the same die shape, check out this card using the Path to Greatness stamp set (155454) and the Stacked Stone Background stamp (152556).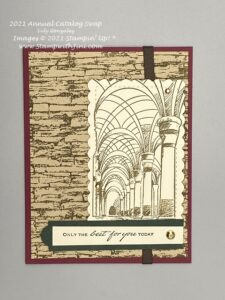 And if you love labels with a flair – you'll want to be sure to check out the Ornate Layers (152726) die set and Ornate Frames Dies (150664) that were used to create these next 2 cards.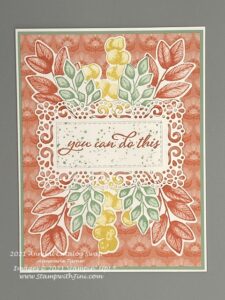 Team them up with a great stamp set like the Forever Fern (152559) and Very Versailles (149275) and you'll have a great look.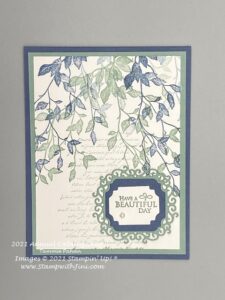 And of course we also have some wonderful that are great on their own since they are silhouettes. Like this wonderful nature scene? The Inspiring Canopy Dies (155963) create a wonderful silhouette look for any project.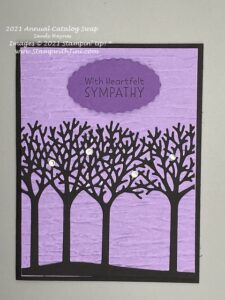 Or the Many Layered Blossoms Dies (153582) that were used for this next card.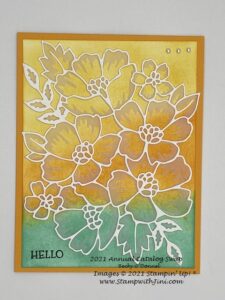 Whew, as you can see we have so many great dies to choose from you'll want to be sure to check them out while the sale is going on, but you'll want to hurry since the Seasonal Sale ends on Thursday, November 18th at 11:50 pm (MT). You can stop by my Online Store to check them all out today! Simply Click HERE.
OnStage@Home
This past weekend I had the opportunity to join in with other Demonstrators from around the world and share in this special event. As always, my cup is over flowing after these events. Stampin' Up! always makes these events special whether they are in person or virtual like these have been over these last months. Our event Thursday started with entertainment and celebrating achievements.
I feel grateful and blessed to be recognized for Sales and Team Building during the 2020-2021 year! THANK YOU to my wonderful Team, and my very supportive Customers for helping me reach these goals this past year! THANK YOU for allowing me to continue to stamp with you!
These are the things I was recognized for:
Sales – Level 1: I had sales of over $10,000 last year.
Team Building – Level 1: I had one new team member reach $900 in sales.
In addition over the 3 days we got to see tons of creative presentations using new products and break out sessions. Stampin' Up! sent us a wonderful box of goodies for this event and allowed us to order some lovely new products from the 2022 January – June Mini Catalog for our stamping event too!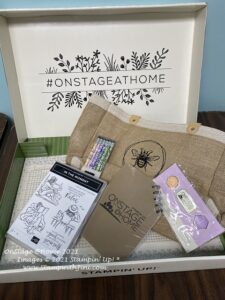 And as a Center Stage gift I received some organizational items for my desk too covered in one of the new Designer Series Paper patterns.
During the event we stamped together using the Heart & Home Suite of products – you're going to love it! I can't wait to share the projects and more with you!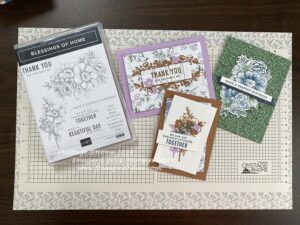 Enjoy! and watch for a sneak peek coming soon of the new 2022 January – June Mini Catalog coming soon.
Did you know if you want to be first to see and order new products AND get to experience events like this now is a great time to join my team? Not only will you be able to add Seasonal Sale items to your kit (November 16th – 18th only) you can also get a wonderful assortment valued up to $125 in your kit for just $75 and free shipping!
So if you've ever thought about getting a discount on your favorite Stampin' Up! products, joining a group of crafters who love sharing, and getting discounts and all the wonderful perks of Stampin' Up! opportunities NOW might just be the right time to join!
Click HERE to learn more about my Team the Blue Mountain Stampers or contact me today if you'd like to know more about the benefits of joining my group of crafters.
And remember there is no obligation when you join!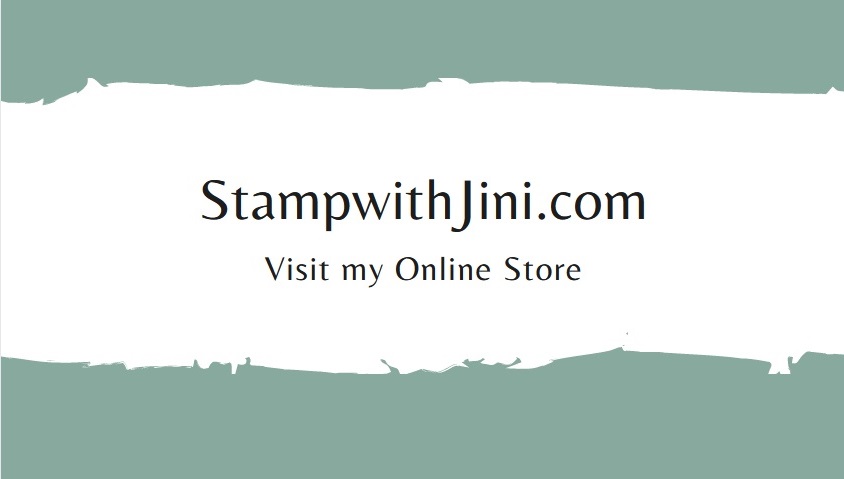 Click here to order your Stampin' Up! Products online 24/7! (US only)
Shop at my Online Store and use Host Code HCNEQY33 and receive a FREE Gift from me!
Click Here to learn more about using the Hostess Code If you order Online make sure your profile information is up to date and you've allowed me to send you your free gift.
If your Online order is $150 or more make sure not to use the host code so that you can take advantage of the Host Benefits yourself – No worries, I'll still send you your free gift. It's my way of saying thank you for choosing me as your demonstrator!