This past weekend I was able to share some time with a lovely group of ladies at the Tanglewood Lodge in Helen. Here is my spot all set up Friday and ready to go. Yes, I pack heavy. LOL I'm sure you know how that goes.
And here are my friend and I at the Big Shot & Punch table working on our projects. Fun, laughter and fellowship – what could be  better? I really enjoyed my time with these ladies – there are always all kinds of different crafting projects going on and it's fun to see everyone's projects
Today's card is one I created at the retreat and it uses the Petal Potpourri stamp set from the Occasions Catalog along with the Another Thank You Photopolymer stamp set.
Can you see the fun heart shape on the sentiment? This is one of our Itty Bitty Accents Epoxy Stickers colored with the Wisteria Wonder Stampin' Blendabilities – what fun these are to add a little extra interest and shine to an area you want to highlight. (I've listed all the supplies below for you)
Of course since the retreat was held on Valentine's weekend I did a little something for my guys before I left the house using the January Paper Pumpkin Kit stamp set.
I also thought you'd enjoy seeing what my son did for his girlfriend – she loves bacon!
We cooked these together the night before I left for the retreat but he put them together for their date. They really look like roses I thought – clever idea. When I posted the video I saw on face book onto his timeline I was just joking – but he loved the idea and it turns out so did his girlfriend!
Unfortunately we did have to cut our weekend short and so we headed out Sunday night since the weather reports for the incoming storm were kind of spotty. Better safe than sorry, right?
When I got home Sunday night I found this cute little critter trying to help me unpack.
Turns out Raven is a pet and had gotten out of her pasture – She just wanted to play and found in a friend in our dog Chewie. You'll be happy to know Raven was picked up before the worst of the storm came in and is happy back with her family now.
As you can see we've had some excitement here in North Georgia over the last few days – thankfully it wasn't nearly as bad as they predicted although the ice has taken down a lot of trees and power in the Atlanta area.
It seems we faired a bit better in Clarkesville – unfortunately this afternoon I won't be at the Clarkesville Library for my Caring with Cards event. The library is closed due to the weather, but I will be there on March 17th so why not plan to stop by then?
On a personal note – I thought I'd share some photos with you of the yard. Ice storms are always more fun when your safe inside.  Hopefully you and your family are safe and warm too.
This first picture was from last night as everyone was getting home. There were already some bad spots of ice forming and part of the road was shut down because of it. Most of what we got yesterday was sleet- you could really hear it pinging on the surfaces.
And here is what it looks like this morning – thankfully the sun is out and it is warming up so things are starting to melt.
Well I'd better go since both my guys are home. Stop on by again when I'll be sharing more of the projects that I made during my weekend at Tanglewood.
And of course if you've signed up for my Newsletter you'll be receiving some in your exclusive project from my  6 Weeks of Sale-a-bration Newletters too! If you haven't – it's not too late to sign up and receive yours too. Just click on the button at the top right of my blog, fill out the form for my Newsletter and confirm the request so you'll get yours too. Then sit back and relax.
Oh, by the way the punch for the Sale-a-bration set, You Brighten My Day is part of the Weekly Deals below. How great is that!
New Weekly Deals for February 17th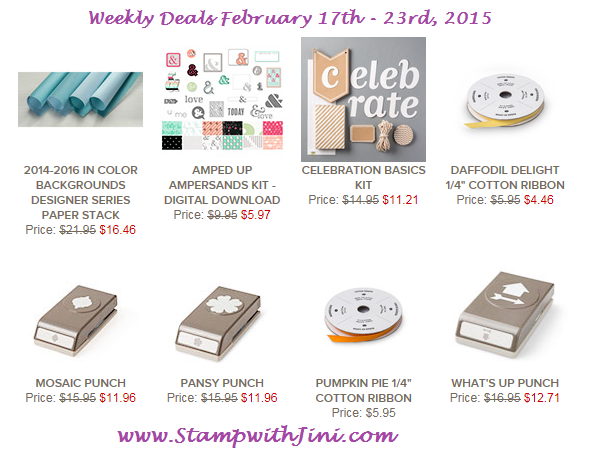 Supplies: 
Stamp Set: Petal Potpourri (137141/138586), Another Thank You (136835)
Inks: Memento Tuxedo Black Pad (132708), VersaMark (102283) and Blushing Bride (13172)
Paper: Blushing Bride (131198), Basic Black (121045), and Whisper White (100730)
Accessories: Itty Bitty Accents Epoxy Stickers (137856), 7/8″ Scallop Circle Punch (129404), Wisteria Wonder Blendabilities (131002), Heat Tool (129053), Black Embossing Powder (109133)
Click here to order your Stampin' Up! Products online 24/7! (US only)
Hostess code TZK4PVVY
Place an Online order with me and use my Hostess Code TZK4PVVY  and I'll send you a FREE Tutorial
Click Here to learn more about using the Hostess Code