Tomorrow is my Team Craft Time, this is a monthly event where we gather and craft together – it is a free style event where anything goes and it's a lot of fun. We simply bring what ever we are working on and enjoy each others company while crafting.
Want to see some of what my team has been working on? Here are some of the swaps from the July meeting earlier this month everyone shared.
These first two cards use the Mosaic Mood Specialty Designer Series Paper (149478) and the Memorable Mosaic Stamp Set (149226)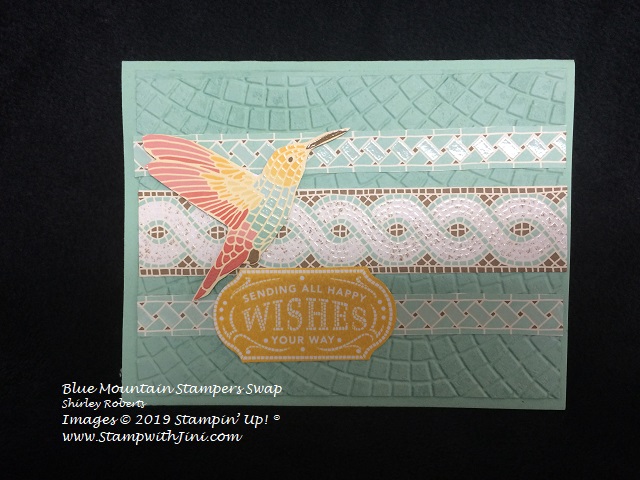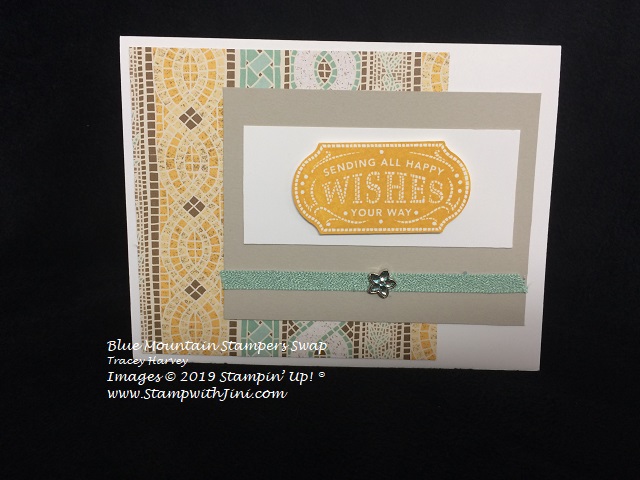 Don't you love the new Timeless Label Punch (149516)? It not only coordinates with this stamp set, but it's a great punch for all kinds of sentiments and comes in a Bundle too so you can save 10% when you purchase the stamp set and punch together!
And here is a lovely card made with the Magnolia Blooms stamp set (152729) found in our Experience Creativity brochure.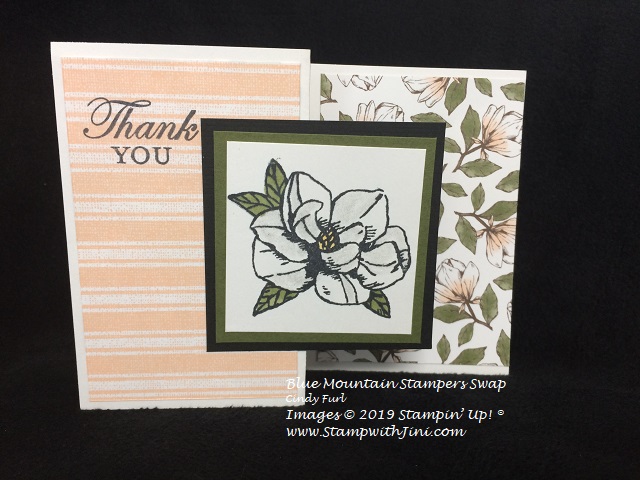 This brochure is filled with wonderful stamp sets and getting started bundles that are perfect for the new stamper, but great for the avid stamper too since products coordinating with items from the 2019 Annual Catalog, like this stamp set.
And here are two cards using the Butterfly Gala stamp set (148580) – LOL the swappers were surprised to see they were both inspired by the same project this month!
This first one is done in Grapefruit Grove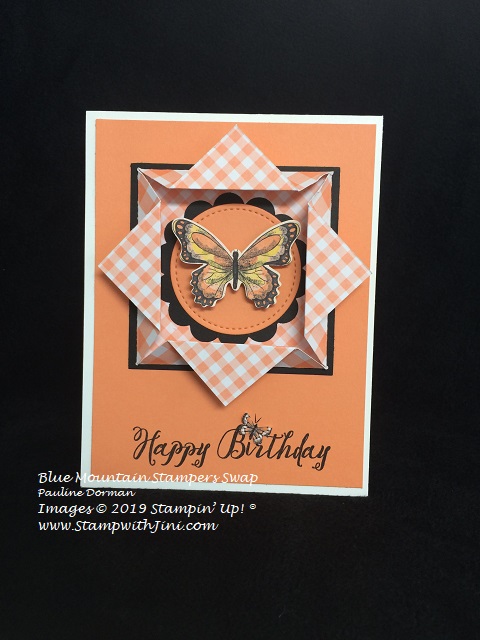 and this second one is done is 2018 In Color, Call Me Clover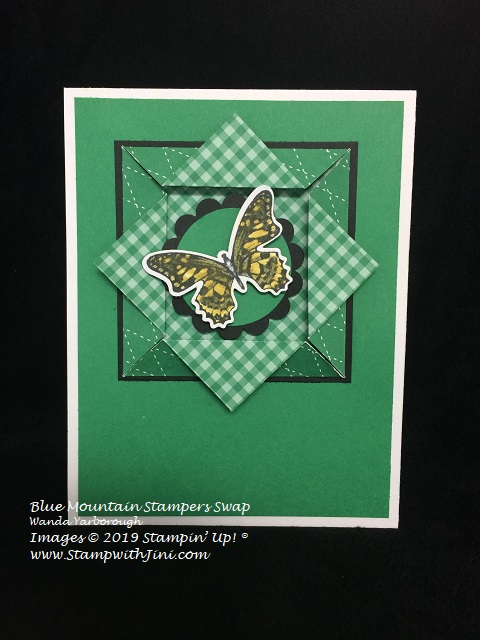 And this final card is a Inside Block, fancy fold card using the Beauty Abounds stamp set (148726).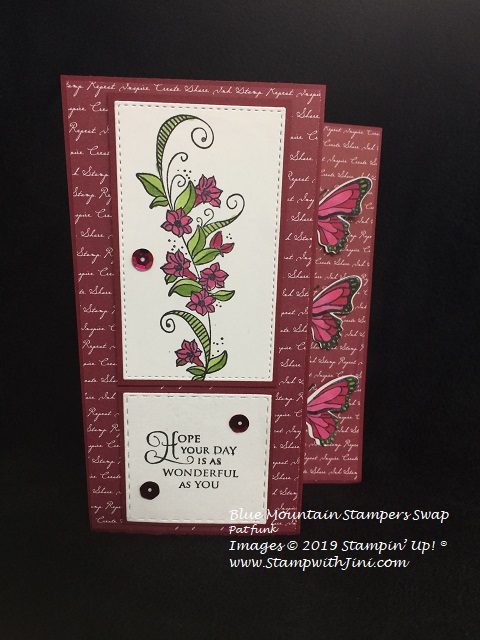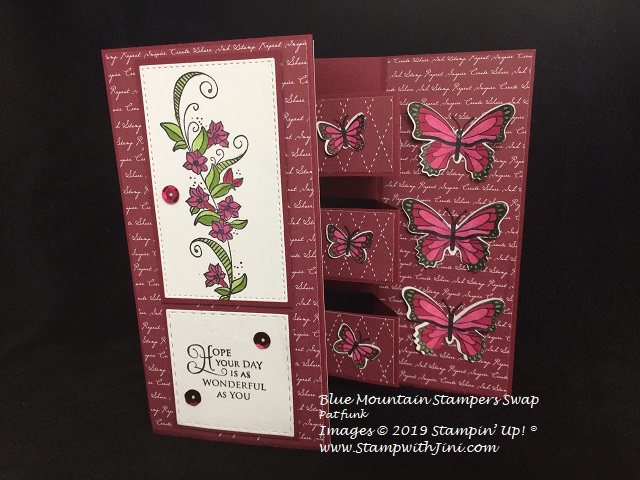 Such a fun card and we'll be learning how Pat made this card during our August meeting – Sharing is the best!
Here are a couple of more pictures from the July Meeting where we always do some Make n' Take projects and celebrate achievements together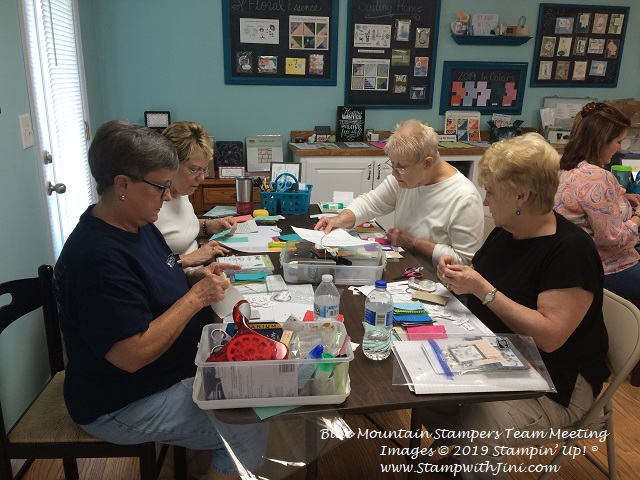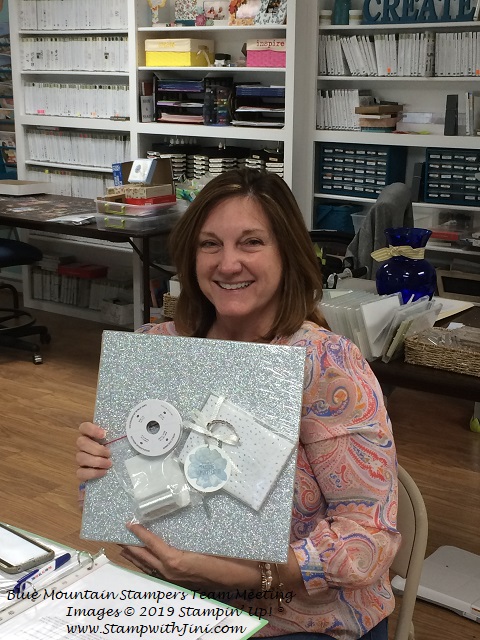 Sound like fun? Why not join us?
$55 for FREE – It's a Perfect Time to Join the Blue Mountain Stampers!
It only costs 99.00 to buy the starter kit and you can pick out $155 of product that YOU choose! (That's $30 more than usual!) Then you'll receive a 20% discount off your future purchases.
Join the Blue Mountain Stampers and receive a community of support – I support both Happy Shoppers and those wanting to build a business with some wonderful options.
If you feel this is a good time to join Stampin' Up! and my team, the Blue Mountain Stampers, you too can be first too!
Getting Started with the Stamp Cleaning Pad
Have you seen this great new option for cleaning our stamps? I LOVE this particularly for our Photopolymer stamps since it helps clean those tough stains that discolor our stamps and make it harder to see through them. Check out my quick video showing you more.
Getting Started with the Stamp Cleaning Pad & Refill Video Tutorial
So what do you think? I think it's a great add on to our Simply Shammy and Stampin' Scrub cleaning options. Our Stamp Cleaning Pad (147047) is a great deal at just $7.50. You'll make to make sure you order the Refill (149661) when you order your pad so that you don't have to worry about running out of this great cleaning option.
Today is the Last Day to Get your FREE Class Kit when you place a qualifying Order with me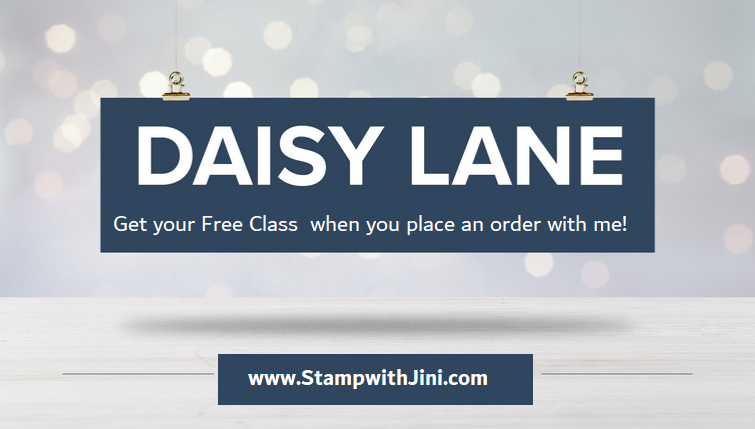 Click HERE for the full details or contact me by email at StampwithJini@gmail.com

Click here to order your Stampin' Up! Products online 24/7! (US only)
Shop at my Online Store and use Host Code WX4Y4NHB Place a qualifying order with me and use this host code get a FREE Daisy Lane Note Card & Box Class!