I love to try new things and so recently fell in love with making these cards using the Double Fold Gate technique and the Layered Labels stamp set. It's a lot of fun to see all the different combinations that you can come up with.
This card in particular that I'm showing you today uses one of my favorite NEW stamps sets from the 2012-2013 Catalog, Layered Labels. First I love it because of the sentiments and secondly because of the fact it has a matching set of Framelits Dies that coordinate with it making it quick and easy to use. After all who doesn't love their Big Shot? And with all the new goodies in the 2012-2013 Catalog the Big Shot options are endless!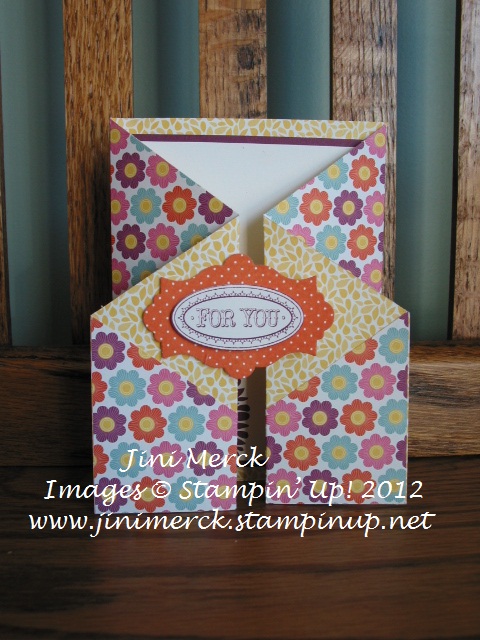 I've used the Floral District Designer Series Paper for this Double Fold Gate card. The Floral Districts DSP seems to be a DSP that I reach for most often right now– so much so I need to order my 3rd package of it already! I really like the bold, fun colors and patterns it contains.
I think these Double Fold Gate Cards are so much fun to make that I wanted to share with you the Double Fold Gate Card tutorial that I made for it. Grab your favorite pack of Designer Series Paper and see what combinations you can come up with – warning these can become addictive!
Double Fold Gate Card Tutorial
Supplies:
Simply Scored Scoring Tool
Stampin Trimmer
Bone Folder
Lay a 12″ x 5 ½" piece of Designer Series Paper on the Simply Scored Board with longest edge at the top. (I used our new Floral District Designer Series Paper.)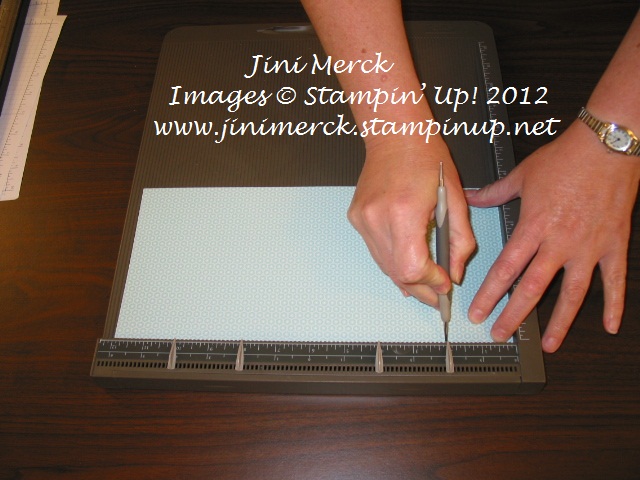 Score at 2″, 4″, 8″ and 10″ marks
Turn Designer Series Paper and make a small mark each short end at the 2 ¾" mark
Use the bone folder and fold in the two ends on the 4″ and 8″ score lines. (This allows you to see your score lines easier for when you line up your DSP to cut.)
Decide which side is the top of your card and then using the Stampin' Trimmer to cut a diagonal line on each side. Line up the 2 ¾" mark on the grove where your blade travels. You can hold this in place with your index finger if you would like.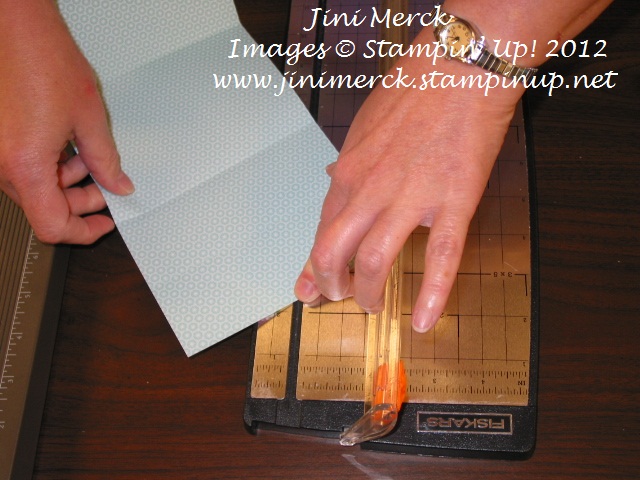 Then "swing" the top edge of your 4″ score line on the DSP until it is lined up on the grove too.
Cut.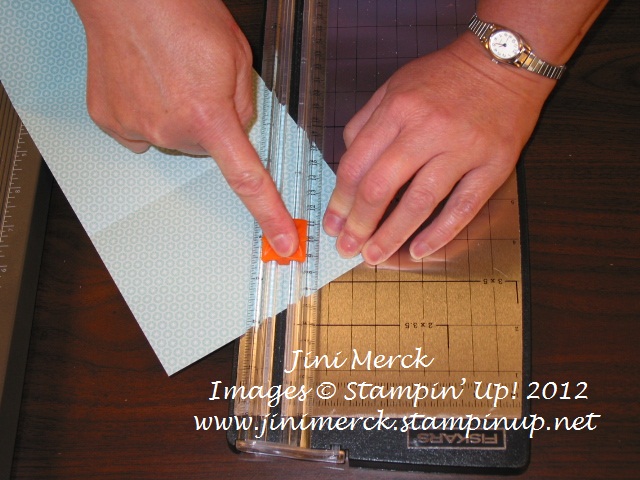 Repeat on the other side Lining up the 8″ score line and your
2 ¾" mark.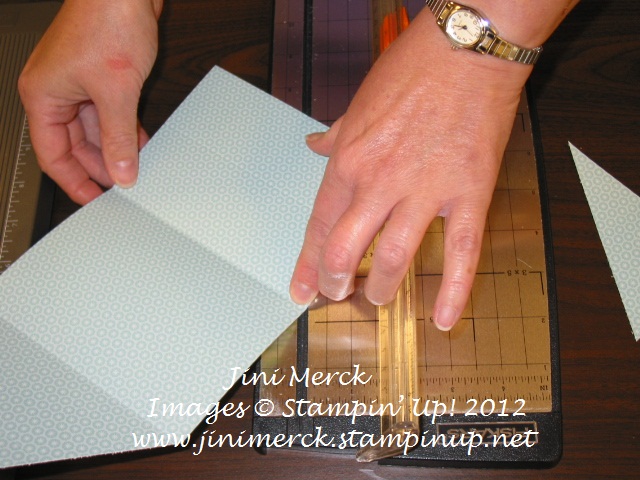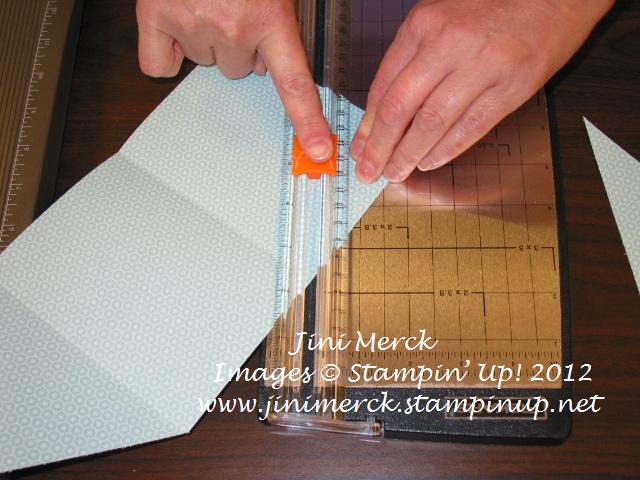 You should have three pieces that look like this.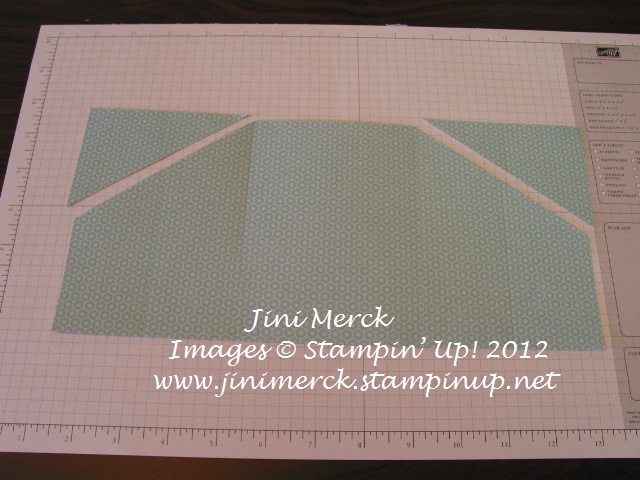 Flip over the piece and adhere to the bottom of card as shown. Repeat on the other side.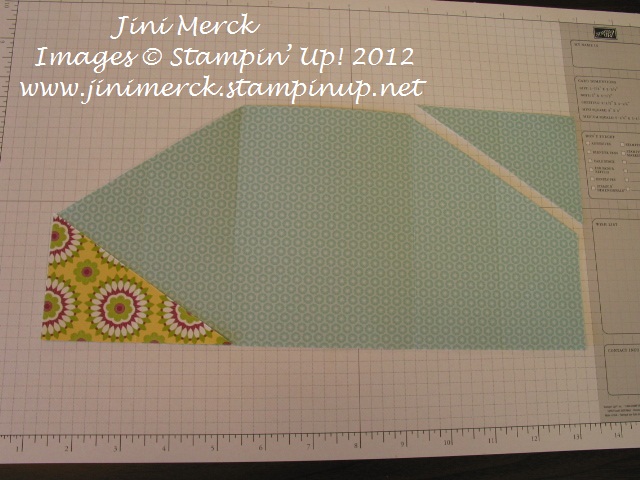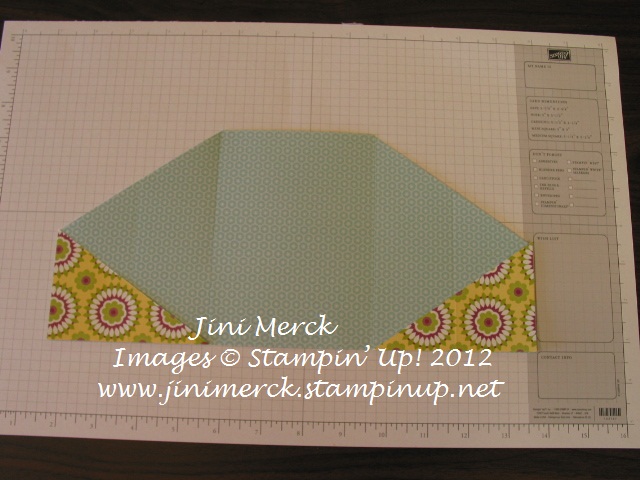 Using the bone folder you can fold the card on the 4″ and 8″ score lines (if you didn't fold and score before cutting off the corners.)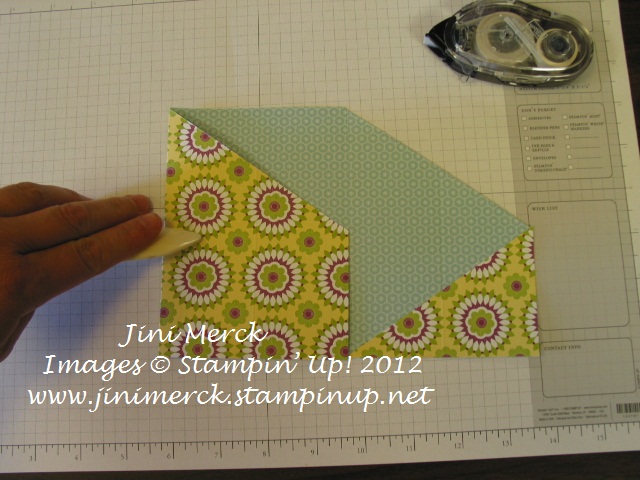 Using Bone Folder, fold on the 2″ score line in the opposite direction to create Z fold.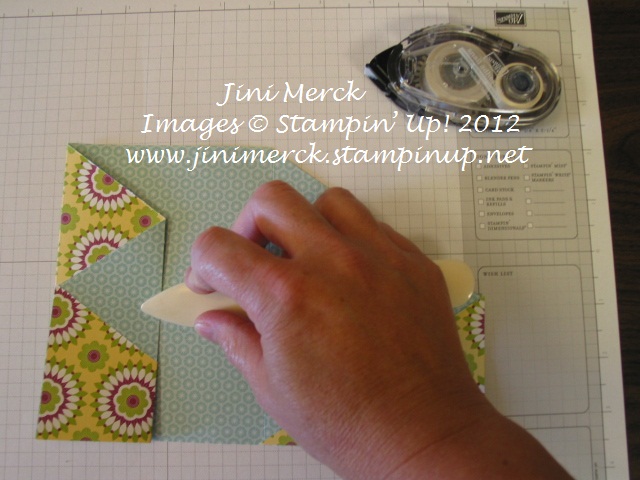 Repeat on the other side Using Bone Folder, fold on the 10″ score line folding in the opposite direction to create Z fold.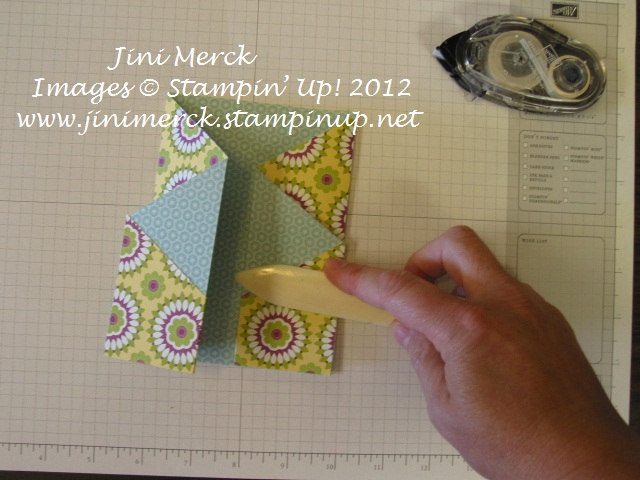 Your card should like this.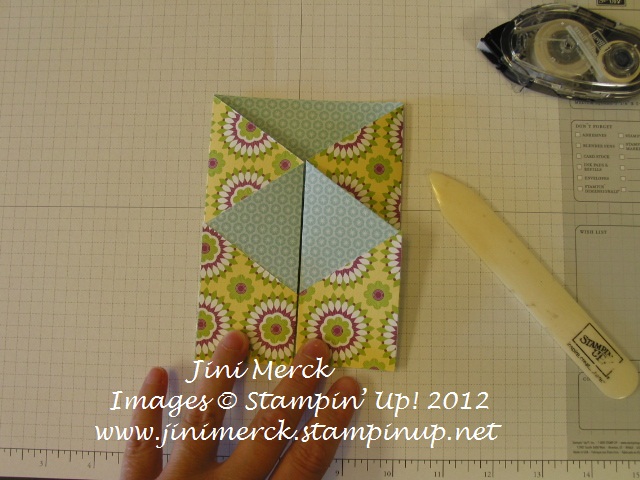 Adhere pieces of card stock to the inside and decorate front as desired. I used a piece of 3 ½" x 5″ Rich Razzleberry card stock with a layer of 3 ¼" x 4 ¾" Whisper White card stock. I used the Betsy's Blossoms stamp set and stamped the flower image in Rich Razzleberry.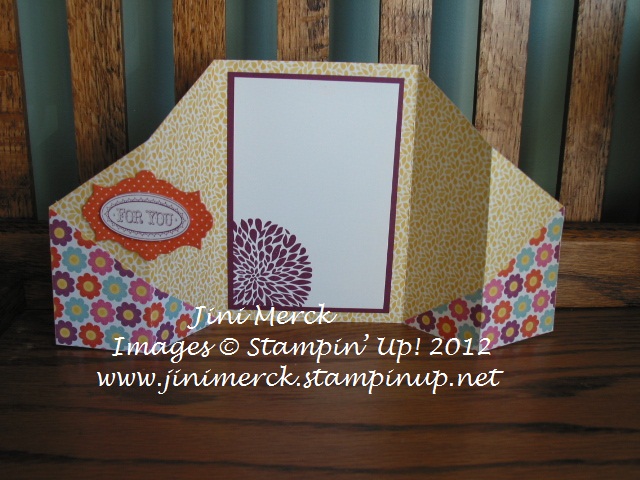 For the outside image I used our NEW Layered Labels stamp set and the coordinating Apothecary Accents Framelits Dies – Adhering the image only on the one side so that the card opens easily.
And here is the finished card.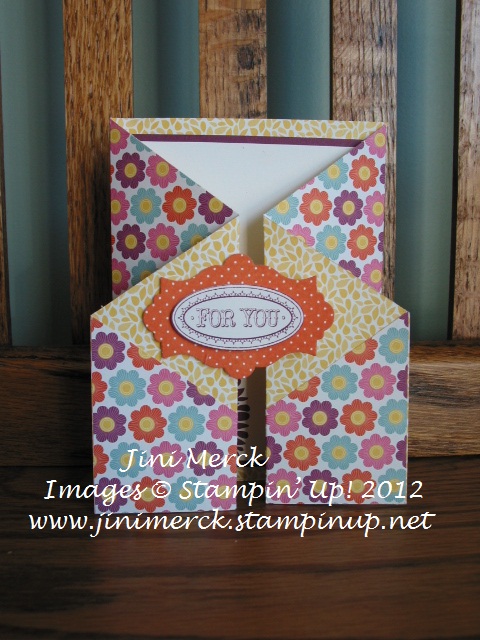 Did you enjoy this tutorial? Do you like to learn new things?  Would you like to get exclusive tutorials for 2 projects that are just for you every month? Why not join my Virtual Stamp Club?
Watch for more information coming soon – meanwhile why not sign up and become part of my Mailing list NOW. Not only will you receive my Monthly Newsletter, which includes special promotions, tips and helpful hints (in addition to information about my events and my Virtual Club that starts in September), but you'll also receive a FREE tutorial just for you!
Click here to order your Stampin' Up! Products online 24/7! (US only)